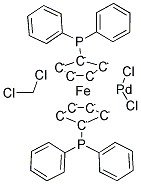 1,1′-Bis(diphenylphosphino)ferrocene-palladium(II)dichloride dichloromethane complex CAS 95464-05-4


Identification
Properties
Safety Data
Specifications andamp; Other Information
Links
Identification
CAS Number
95464-05-4
Name
1,1′-Bis(diphenylphosphino)ferrocene-palladium(II)dichloride dichloromethane complex
Synonyms
DICHLORO[1,1′-BIS(DIPHENYLPHOSPHINO)FERROCENE]-PALLADIUM DICHLOROMETHANE ADDUCT;DICHLORO[1,1′-BIS(DIPHENYLPHOSPHINO)FERROCENE]PALLADIUM(II) DICHLOROMETHANE ADDUCT;DICHLORO[1,1′-BIS(DIPHENYLPHOSPHINO)FERROCENE]PALLADIUM(II) DICHLOROMETHANE COMPLEX;1,1′-BIS(DIPHENYLPHOSPHINO)FERROCENEPALLADIUM(II) DICHLORIDE, DICHLOROMETHANE;1,1′-BIS(DIPHENYLPHOSPHINO)FERROCENE-PALLADIUM(II)DICHLORIDE DICHLOROMETHANE COMPLEX;[1,1′-BIS(DIPHENYLPHOSPHINO)FERROCENE]DICHLOROPALLADIUM(II), COMPLEX WITH DICHLOROMETHANE (1:1);[1,1′-BIS(DIPHENYLPHOSPHINO)FERROCENE]DICHLOROPALLADIUM(II), DCM ADDUCT;[1,1′-BIS(DIPHENYLPHOSPHINO)FERROCENE]DICHLOROPALLADIUM(II), DICHLOROMETHANE ADDUCT
[1,1′-Bis(diphenylphosphino)ferrocene]dichloropalladium(II) dichloromethane complex
[1,1′-Bis(diphenylphosphino)ferrocene]palladium(II) chloride dichloromethane complex
619-128-9 [EINECS]
95464-05-4 [RN]
MFCD00792899 [MDL number]
Molecular Structure
SMILES
c1ccc(cc1)P(c2ccccc2)C3=CC(C=C3)[Fe]C4C=CC(=C4)P(c5ccccc5)c6ccccc6.C(Cl)Cl.Cl[Pd]Cl
StdInChI
InChI=1S/2C17H14P.CH2Cl2.2ClH.Fe.Pd/c2*1-3-9-15(10-4-1)18(17-13-7-8-14-17)16-11-5-2-6-12-16;2-1-3;;;;/h2*1-14H;1H2;2*1H;;/q;;;;;;+2/p-2
StdInChIKey
CWHRHCATIKFSND-UHFFFAOYSA-L
Molecular Formula
C35H30Cl4FeP2Pd
Molecular Weight
816.637
EINECS
460-040-3
MDL Number
MFCD00792899
Properties
Appearance
Orange-red crystal
Melting Point
275-280℃
Safety Data
Symbol
Signal Word
Warning
Hazard Statements
H302 + H312 + H332-H315-H319-H335-H336-H351-H373
Precautionary Statements
RIDADR
NONH for all modes of transport
WGK Germany
3
MSDS
1,1′-Bis(diphenylphosphino)ferrocene-palladium(II)dichloride dichloromethane complex CAS 95464-05-4 MSDS
Specifications and Other Information of Our 1,1′-Bis(diphenylphosphino)ferrocene-palladium(II)dichloride dichloromethane complex CAS 95464-05-4
Standard
Enterprise standard
Purity
98%min
Pd
13%max
Rh
andlt;0.001%
Ru
andlt;0.001%
Ir
andlt;0.001%
Zn
andlt;0.001%
Cu
andlt;0.001%
Ag
andlt;0.001%
Ni
andlt;0.001%
Al
andlt;0.001%
Bi
andlt;0.001%
Fe
andlt;0.001%
Pt
andlt;0.001%
Pb
andlt;0.001%
Cr
andlt;0.001%
Sn
0.001%
Mn
andlt;0.001%
Mg
andlt;0.001%
Au
andlt;0.001%
Si
andlt;0.001%
Zr
andlt;0.001%
Ti
andlt;0.001%
Co
andlt;0.001%
As
0.002%
Sb
0.001%
W
0.001%
V
andlt;0.001%
Cd
andlt;0.001%
Mo
andlt;0.001%
Nb
andlt;0.001%
Package
According to customer requirements to packaging
Shelf life
6 months
Storage
Store at 2-8° for a long time, keep in sealed and dry place.
Application
Used as a catalyst for carbonylation, cross-coupling, Suzuki reaction.
Links
This product is developed by our RD company Warshel Chemical Ltd(http://www.warshel.com/), and here is the corresponding linkhttp://www.warshel.com/11-bisdiphenylphosphinoferrocene-palladiumiidichloride-dichloromethane-complex-cas-95464-05-4/
Quick Inquiry
Fill out our inquiry form and one of our experts will be in touch with you shortly (Please change screen to horizontal for complete browsing if you are checking Watson on your mobile phone).