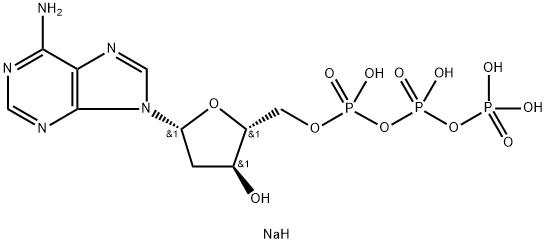 Iden­ti­fi­ca­tion
CAS

Number

54680-12-5
Name
2′-Deoxyadenosine-5′-triphosphate Trisodi­um Salt
Syn­onyms
2′-Désoxy-5′-O-[({[(hydroxyphosphinato)oxy]phosphinato}oxy)phosphinato]adénosine de trisodi­um [French] [ACD/IUPAC Name]
Adeno­sine, 2′-deoxy-, 5′-(tetrahydrogen triphos­phate), sodi­um salt (1:3) [ACD/​Index Name]
Trinatrium-2′-desoxy-5′-O-[({[(hydroxyphosphinato)oxy]phosphinato}oxy)phosphinato]adenosin [Ger­man] [ACD/IUPAC Name]
Trisodi­um 2′-deoxy-5′-O-[({[(hydroxyphosphinato)oxy]phosphinato}oxy)phosphinato]adenosine [ACD/IUPAC Name]
2′-Deoxyadenosine-5′-triphosphate trisodi­um
2′-Deoxyadenosine-5′-triphosphate trisodi­um salt
54680-12-5 [RN]
TRISODI­UM DATP TRI­AN­ION
SMILES
c1nc(c2c(n1)n(cn2)[[email protected]]3C[[email protected]@H]([[email protected]](O3)COP(=O)([O-])OP(=O)([O-])OP(=O)(O)[O-])O)N.[Na+].[Na+].[Na+]
Std­InChI
InChI=1S/C10H16N5O12P3.3Na/c11-9-8-10(13-3-12-9)15(4-14-8)7-1-5(16)6(25-7)2-24-29(20,21)27-30(22,23)26-28(17,18)19;;;/h3-7,16H,1-2H2,(H,20,21)(H,22,23)(H2,11,12,13)(H2,17,18,19);;;/q;3*+1/p-3/t5-,6+,7+;;;/m0…/s1
Std­InChIKey
VEESQM­CFN­IN­IMU-PWD­LAN­ND­SA-K
Mol­e­c­u­lar Formula
C10H13N5Na3O12P3
Mol­e­c­u­lar Weight
557.127
Prop­er­ties
Appear­ance
Clear col­or­less solution
Safe­ty Data
RIDADR
NONH for all modes of transport
WGK

Germany

3
Spec­i­fi­ca­tions and Oth­er Infor­ma­tion of Our 2′-Deoxyadenosine-5′-triphosphate Trisodi­um Salt
CAS

54680-12-5
Iden­ti­fi­ca­tion Methods
HNMR, HPLC
Puri­ty
99% min
Λmax
260nm±2nm
Absorbance Ratio(pH7.5)
A280/A260 : 0.13-0.18
A250/A260 : 0.75-0.81
pH(22-25℃)
7.4±0.1
31p

NMR

(

D20

)
To con­form structure
Con­cen­tra­tion
100mM±3
Shelf Life
2 years
Stor­age
Please store in -20℃. Always avoid freeze-thaw cycles or expo­sure to fre­quent tem­per­a­ture changes. These fluc­tu­a­tions can great­ly alter prod­uct stability.
Known Appli­ca­tion
It is a kind of nucleotide used for DNA syn­the­sis or repli­ca­tion in cells ; it is also a sub­strate of DNA polymerase.
Links
This prod­uct is devel­oped by our R&D com­pa­ny Ulcho Bio­chem­i­cal Ltd (http://​www​.ulcho​.com/).
Quick Inquiry
Fill out our inquiry form and one of our experts will be in touch with you shortly.