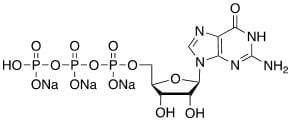 Iden­ti­fi­ca­tion
CAS

Number

36051-31-7
Name
Guanosine-5′-triphosphate [GTP], Trisodi­um salt
Syn­onyms
252-847-2 [EINECS]
3585677
36051-31-7 [RN]
5′-O-(Hydroxy{[(phosphonatooxy)phosphinato]oxy}phosphoryl)guanosine de trisodi­um [French] [ACD/IUPAC Name]
GTP
Guano­sine, 5′-(tetrahydrogen triphos­phate), sodi­um salt (1:3) [ACD/​Index Name]
Guanosine-5′-triphosphate sodi­um salt
MFCD00077781 [MDL num­ber]
Trinatrium-5′-O-(hydroxy{[(phosphonatooxy)phosphinato]oxy}phosphoryl)guanosin [Ger­man] [ACD/IUPAC Name]
Trisodi­um 5′-O-(hydroxy{[(phosphonatooxy)phosphinato]oxy}phosphoryl)guanosine [ACD/IUPAC Name]
[36051-31-7]
2′-Deoxygunosine-5′-triphosphate trisodi­um salt
5′-GTP-Na2
93919-41-6 [RN]
GTP Trisodi­um
Guano­sine 5′-(tetrahydrogen triphos­phate), trisodi­um salt
Guano­sine 5′-triphosphate sodi­um salt
Guano­sine 5′-triphosphate sodi­um salt hydrate
Guano­sine 5′-triphosphate
guano­sine 5′-tri-phosphate sodi­um salt
Guano­sine 5′-triphosphate sodi­um salt
Guano­sine 5′-triphosphate sodi­um salt hydrate
Guano­sine 5′-triphosphate sodi­um salt solu­tion
Guano­sine 5′-triphosphate trisodi­um salt
guanosine-5′-triphosphate trisodi­um salt
Guanosine-5′-triphosphate, trisodi­uM salt
Guano­­sine-5-triphos­phate­­sodi­um­salt
Guanosine5′-triphosphatetrisodiumsalt
MFCD03787968 [MDL num­ber]
sodi­um ((2R,3S,4R,5R)-5-(2-amino-6-oxo-1,6-dihydro-9H-purin-9-yl)-3,4-dihydroxytetrahydrofuran-2-yl)methyl hydro­gen triphos­phate
TRISODI­UM GTP TRI­AN­ION
SMILES
c1nc2c(n1[[email protected]]3[[email protected]@H]([[email protected]@H]([[email protected]](O3)COP(=O)(O)OP(=O)([O-])OP(=O)([O-])[O-])O)O)[nH]c(nc2=O)N.[Na+].[Na+].[Na+]
Std­InChI
InChI=1S/C10H16N5O14P3.3Na/c11-10-13-7-4(8(18)14-10)12-2-15(7)9-6(17)5(16)3(27-9)1-26-31(22,23)29-32(24,25)28-30(19,20)21;;;/h2-3,5-6,9,16-17H,1H2,(H,22,23)(H,24,25)(H2,19,20,21)(H3,11,13,14,18);;;/q;3*+1/p-3/t3-,5-,6-,9-;;;/m1…/s1
Std­InChIKey
KZRMTE­V­IDYXWQW-CYCLDIHT­SA-K
Mol­e­c­u­lar Formula
C10H13N5Na3O14P3
Mol­e­c­u­lar Weight
589.126
EINECS
252-847-2
Beil­stein Reg­istry Number
4113439
MDL

Number

MFCD00077781
Prop­er­ties
Appear­ance
Off white powder
Safe­ty Data
RIDADR
NONH for all modes of transport
WGK

Germany

3
Spec­i­fi­ca­tions and Oth­er Infor­ma­tion of Our Guanosine-5′-triphosphate [
GTP

], Trisodi­um salt

CAS

36051-31-7
Iden­ti­fi­ca­tion Methods
HNMR, HPLC
Puri­ty
98% min
Shelf Life
2 years
Stor­age
Under room tem­per­a­ture away from light
Known Appli­ca­tion
GTP, dis­odi­um salt, is required as a coen­zyme for pro­tein biosyn­the­sis in a cell-free sys­tem. It has been used in FtsZ poly­mer­iza­tion assay and in the prepa­ra­tion of pipette solu­tion for the elec­tro­phys­i­o­log­i­cal record­ings of the whole-cell mem­brane currents.
Links
This prod­uct is devel­oped by our R&D com­pa­ny Ulcho Bio­chem­i­cal Ltd (http://​www​.ulcho​.com/).
Quick Inquiry
Fill out our inquiry form and one of our experts will be in touch with you shortly.