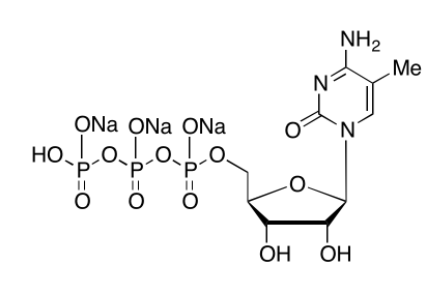 Iden­ti­fi­ca­tion
CAS

Number

327174-86-7
Name
5-Methyl­­cy­ti­­dine 5′-Triphosphate (CPT) Trisodi­um Salt
Syn­onyms
2(1H)-Pyrim­idi­none, 4-amino-1-[(2ξ)-5-O-[hydroxy[[hydroxy(phosphonooxy)phosphinyl]oxy]phosphinyl]-β-D-threo-pentofuranosyl]-5-methyl- [ACD/​Index Name]
4-Amino-1-[(2ξ)-5-O-(hydroxy{[hydroxy(phosphonooxy)phosphoryl]oxy}phosphoryl)-β-D-threo-pentofuranosyl]-5-methyl-2(1H)-pyrim­idi­non [Ger­man] [ACD/IUPAC Name]
4-Amino-1-[(2ξ)-5-O-(hydroxy{[hydroxy(phosphonooxy)phosphoryl]oxy}phosphoryl)-β-D-threo-pentofuranosyl]-5-methyl-2(1H)-pyrim­idi­none [ACD/IUPAC Name]
4-Amino-1-[(2ξ)-5-O-(hydroxy{[hydroxy(phosphonooxy)phosphoryl]oxy}phosphoryl)-β-D-thréo-pentofuranosyl]-5-méthyl-2(1H)-pyrim­idi­none [French] [ACD/IUPAC Name]
327174-86-7 [RN]
5-Methyl-CTP
5-Methylcytidine-5′-triphosphate sodi­um salt
SMILES
Cc1cn(c(=O)nc1N)[C@H]2C([C@H]([C@H](O2)COP(=O)(O)OP(=O)(O)OP(=O)(O)O)O)Oa+].[Na+].[Na+]
Std­InChI
InChI=1S/C10H18N3O14P3/c1-4-2-13(10(16)12-8(4)11)9-7(15)6(14)5(25-9)3-24-29(20,21)27-30(22,23)26-28(17,18)19/h2,5-7,9,14-15H,3H2,1H3,(H,20,21)(H,22,23)(H2,11,12,16)(H2,17,18,19)/t5-,6+,7?,9-/m1/s1
Std­InChIKey
YIJVOACVHQZM­­KI-WJZMD­OFJSA-N
Mol­e­c­u­lar Formula
C10H18N3O14P3
Mol­e­c­u­lar Weight
497.183
Prop­er­ties
Appear­ance
Off white powder
Safe­ty Data
RIDADR
NONH for all modes of transport
WGK

Germany

3
Spec­i­fi­ca­tions and Oth­er Infor­ma­tion of Our 5-Methyl­­cy­ti­­dine 5′-Triphosphate (
CPT

) Trisodi­um Salt

CAS

327174-86-7
Iden­ti­fi­ca­tion Methods
HNMR, HPLC
Puri­ty
98% min
Shelf Life
2 years
Stor­age
Under room tem­per­a­ture away from light
Known Appli­ca­tion
5-Methyl­­cy­ti­­dine 5′-Triphosphate is a trisodi­um triphos­phate salt of 5-Methyl­­cy­ti­­dine (M294850) a deriv­a­tive of Cyti­dine (C998300), found in ribonu­cle­ic acids of ani­mals, plants and bac­te­ria. 5-Methyl­­cy­ti­­dine is a nucle­o­side found in liv­er emul­sion that can inhib­it the growth of spon­ta­neous tumors of mam­ma­ry gland ori­gin in mice.
Links
This prod­uct is devel­oped by our R&D com­pa­ny Ulcho Bio­chem­i­cal Ltd (http://​www​.ulcho​.com/).
Quick Inquiry
Fill out our inquiry form and one of our experts will be in touch with you shortly.