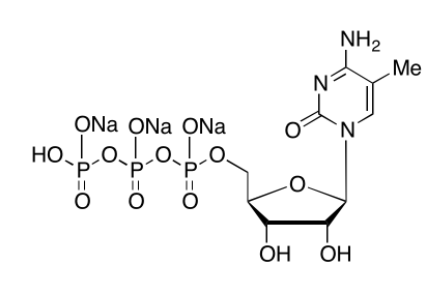 Identification
CAS Number
327174-86-7
Name
5-Methylcytidine 5′-Triphosphate (CPT) Trisodium Salt
Synonyms
2(1H)-Pyrimidinone, 4-amino-1-[(2ξ)-5-O-[hydroxy[[hydroxy(phosphonooxy)phosphinyl]oxy]phosphinyl]-β-D-threo-pentofuranosyl]-5-methyl- [ACD/Index Name]
4-Amino-1-[(2ξ)-5-O-(hydroxy{[hydroxy(phosphonooxy)phosphoryl]oxy}phosphoryl)-β-D-threo-pentofuranosyl]-5-methyl-2(1H)-pyrimidinon [German] [ACD/IUPAC Name]
4-Amino-1-[(2ξ)-5-O-(hydroxy{[hydroxy(phosphonooxy)phosphoryl]oxy}phosphoryl)-β-D-threo-pentofuranosyl]-5-methyl-2(1H)-pyrimidinone [ACD/IUPAC Name]
4-Amino-1-[(2ξ)-5-O-(hydroxy{[hydroxy(phosphonooxy)phosphoryl]oxy}phosphoryl)-β-D-thréo-pentofuranosyl]-5-méthyl-2(1H)-pyrimidinone [French] [ACD/IUPAC Name]
327174-86-7 [RN]
5-Methyl-CTP
5-Methylcytidine-5′-triphosphate sodium salt
SMILES
Cc1cn(c(=O)nc1N)[[email protected]]2C([[email protected]]([[email protected]](O2)COP(=O)(O)OP(=O)(O)OP(=O)(O)O)O)Oa+].[Na+].[Na+]
StdInChI
InChI=1S/C10H18N3O14P3/c1-4-2-13(10(16)12-8(4)11)9-7(15)6(14)5(25-9)3-24-29(20,21)27-30(22,23)26-28(17,18)19/h2,5-7,9,14-15H,3H2,1H3,(H,20,21)(H,22,23)(H2,11,12,16)(H2,17,18,19)/t5-,6+,7?,9-/m1/s1
StdInChIKey
YIJVOACVHQZMKI-WJZMDOFJSA-N
Molecular Formula
C10H18N3O14P3
Molecular Weight
497.183
Properties
Appearance
Off white powder
Safety Data
RIDADR
NONH for all modes of transport
WGK Germany
3
Specifications and Other Information of Our 5-Methylcytidine 5′-Triphosphate (CPT) Trisodium Salt CAS 327174-86-7
Identification Methods
HNMR, HPLC
Purity
98% min
Shelf Life
2 years
Storage
Under room temperature away from light
Known Application
5-Methylcytidine 5′-Triphosphate is a trisodium triphosphate salt of 5-Methylcytidine (M294850) a derivative of Cytidine (C998300), found in ribonucleic acids of animals, plants and bacteria. 5-Methylcytidine is a nucleoside found in liver emulsion that can inhibit the growth of spontaneous tumors of mammary gland origin in mice.
Links
This product is developed by our R&D company Ulcho Biochemical Ltd (http://www.ulcho.com/).
Quick Inquiry
Fill out our inquiry form and one of our experts will be in touch with you shortly.