Iden­ti­fi­ca­tion
CAS

Number

3238-40-2
Name
2,5-Furandicarboxylic acid
Syn­onyms
Furan-2,5-dicarboxylic acid
FDCA
Mol­e­c­u­lar Structure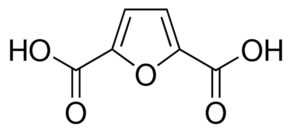 SMILES
O=C(O)c1oc(C(=O)O)cc1
StnInChI
InChI=1S/C6H4O5/c7-5(8)3-1-2-4(11-3)6(9)10/h1-2H,(H,7,8)(H,9,10)
Std­InChIKey
CHTHALBTIRVDBM-UHF­F­­FAOYSA-N
EINECS

Number

221-800-8
MDL

Number

MFCD00016582
Mol­e­c­u­lar Formula
C6H4O5
Mol­e­c­u­lar Weight
156.09
Prop­er­ties
Appear­ance
Ultra-white pow­der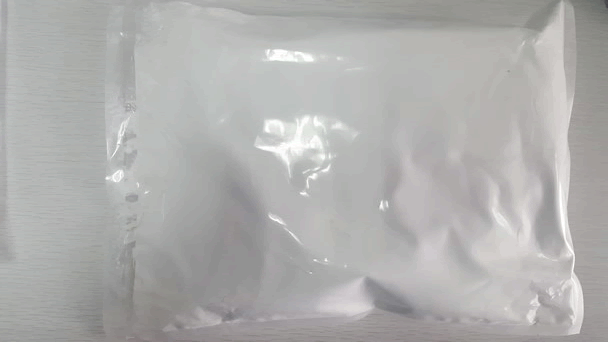 Melt­ing Point
>300 °C
Flash Point
207.324 °C
Boil­ing Point
419.199 °C at 760 mmHg
Den­si­ty
1.604 g/​ml
Safe­ty Data
Sym­bol
GHS07
Sig­nal Word
Warn­ing
Haz­ard Statements
Pre­cau­tion­ary Statements
Haz­ard Codes (Europe)
Risk State­ments (Europe)
Safe­ty State­ments (Europe)
26-36/37
WGK

Germany

3
Spec­i­fi­ca­tions and Oth­er Infor­ma­tion of our 2,5-Furandicarboxylic acid

CAS

3238-40-2
Puri­ty
98%min ; 99%min(HPLC)
Iden­ti­fi­ca­tion Method
HNMR, CNMR, IR, HPLC
Shelf life
3 years
Stor­age
Store at room temperature,sealed and away from light.
Gen­er­al View of Documents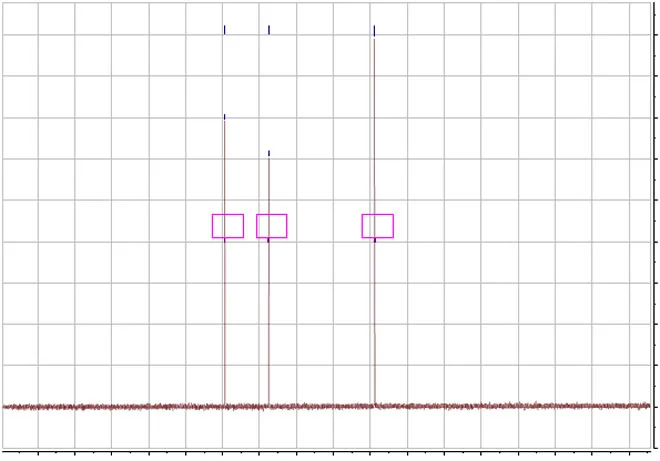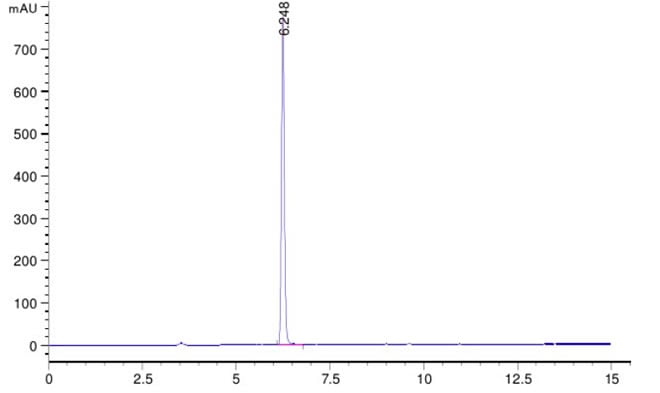 Use
2,5-Furandicarboxylic acid CAS 3238-40-2 has a large poten­tial as a replace­ment for tereph­thal­ic acid, a wide­ly used com­po­nent in var­i­ous poly­esters, such as poly­eth­yl­ene tereph­tha­late (PET) and poly­butylenetereph­tha­late (PBT). PET has a mar­ket size approach­ing 4 bil­lion lb/​yr, and PBT is almost a bil­lion lb/​yr. The mar­ket val­ue of PET poly­mers varies depend­ing on the appli­ca­tion, but is in the range of $1.00 – 3.00/lb for uses as films and ther­mo­plas­tic engi­neer­ing poly­mers. The ver­sa­til­i­ty of FDCA is also seen in the num­ber of deriv­a­tives avail­able via rel­a­tive­ly sim­ple chem­i­cal trans­for­ma­tions. Selec­tive reduc­tion can lead to par­tial­ly hydro­genat­ed products,such as 2,5-dihydroxymethylfuran, and ful­ly hydro­genat­ed mate­ri­als, such as 2,5-bis(hydroxymethyl)tetrahydrofuran. Both of these lat­ter mate­ri­als can serve as alco­hol com­po­nents in the pro­duc­tion of new poly­ester, and their com­bi­na­tion with FDCA would lead to a new fam­i­ly of com­plete­ly bio­­mass-derived prod­ucts. Exten­sion of these con­cepts to the pro­duc­tion of new nylons, either through reac­tion of FDCA with diamines, or through the con­ver­sion of FDCA to 2,5-bis(aminomethyl)tetrahydrofuran could address a mar­ket of almost 9 bil­lion lb/​yr, with prod­uct val­ues between $0.85 and 2.20/lb, depend­ing on the appli­ca­tion. FDCA can also serve as a start­ing mate­r­i­al for the pro­duc­tion of suc­cinic acid, whose util­i­ty is elsewhere.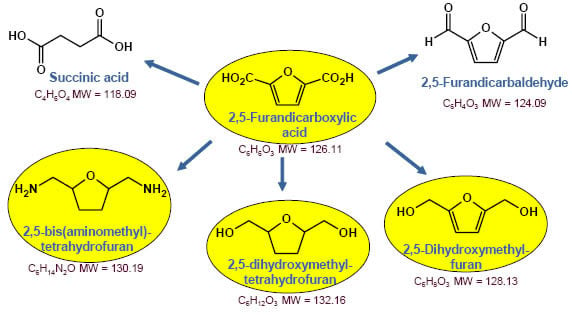 Water sol­u­ble
1g/​L in room temperature
Tox­i­c­i­ty assays –
EU

com­ments on the safe­ty of 2,5-furandicarboxylic acid for food con­tact materials

The EU Food Safe­ty Author­i­ty issued an opin­ion on the safe­ty assess­ment of 2,5-furandicarboxylic acid for food con­tact mate­ri­als. After 90 days of oral tox­i­c­i­ty eval­u­a­tion of the mice, it was found that the NOAEL lev­el was 300 mg FDCA/​kg bw/​day with­out sig­nif­i­cant dam­age. The EU expert group believes that 2,5-furandicarboxylic acid does not pose an accu­mu­la­tion risk in humans. When 2,5-furandicarboxylic acid is used to pro­duce a monomer of poly­eth­yl­ene furanate poly­mer (PEF), the sub­stance itself migrates into the food.
The amount does not exceed 5 mg/​kg, and the amount of oligomers below 1000 Da that migrates into food does not exceed 50/​zg/​kg, which pos­es no threat to consumers.
Links
This prod­uct is devel­oped by our R
&
D com­pa­ny Warshel Chem­i­cal Ltd(
http://​www​.warshel​.com/
), and here is the cor­re­spond­ing link
https://www.warshel.com/25-furandicarboxylic-acid-cas-3238-40-2//
Quick Inquiry
Fill out our inquiry form and one of our experts will be in touch with you short­ly (Please change screen to hor­i­zon­tal for com­plete brows­ing if you are check­ing Wat­son on your mobile phone).