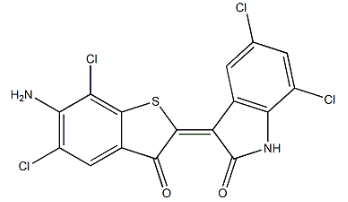 3,4-DIFLUOROBENZONITRILE CAS 6424-62-0
Identification
CAS Number
6424-62-0
Name
3,4-DIFLUOROBENZONITRILE
Synonyms
(3E)-3-(6-Amino-5,7-dichlor-3-oxo-1-benzothiophen-2(3H)-yliden)-5,7-dichlor-1,3-dihydro-2H-indol-2-on [German] [ACD/IUPAC Name]
(3E)-3-(6-Amino-5,7-dichloro-3-oxo-1-benzothiophen-2(3H)-ylidene)-5,7-dichloro-1,3-dihydro-2H-indol-2-one [ACD/IUPAC Name]
(3E)-3-(6-Amino-5,7-dichloro-3-oxo-1-benzothiophén-2(3H)-ylidène)-5,7-dichloro-1,3-dihydro-2H-indol-2-one [French] [ACD/IUPAC Name]
2H-Indol-2-one, 3-(6-amino-5,7-dichloro-3-oxobenzo[b]thien-2(3H)-ylidene)-5,7-dichloro-1,3-dihydro-, (3E)- [ACD/Index Name]
3-(6-Amino-5,7-dichloro-3-oxobenzo[b]thiophen-2(3H)-ylidene)-5,7-dichloroindolin-2-one
3,4-difluorobenzonitrile
6424-62-0 [RN]
SMILES
c1c(cc(c2c1/C(=C\3/C(=O)c4cc(c(c(c4S3)Cl)N)Cl)/C(=O)N2)Cl)Cl
StdInChI
InChI=1S/C16H6Cl4N2O2S/c17-4-1-5-9(16(24)22-12(5)8(19)2-4)15-13(23)6-3-7(18)11(21)10(20)14(6)25-15/h1-3H,21H2,(H,22,24)/b15-9+
StdInChIKey
UWMVLHVAUXCMHP-OQLLNIDSSA-N
Molecular Formula
C16H6Cl4N2O2S
Molecular Weight
432.108
Properties
Melting Point
48-53℃
Boiling Point
180℃
Flash point
69℃
Safety Data
RIDADR
UN 1325 4.1
WGK Germany
3
Specifications and Other Information of Our 3,4-DIFLUOROBENZONITRILE CAS 6424-62-0
Purity
98% min
Storage
Under room temperature away from light
Known Application
3,4-Difluorobenzonitrile is an important intermediate for selective herbicide cyhalofopbutyl. Fenfluroxim is a selective herbicide for rice. It is quite safe for transplanting and direct sowing rice, and is an internationally recognized excellent rice herbicide.
Links
This product is developed by our R&D company Warshel Chemical Ltd(
http://www.warshel.com/
), and here is the corresponding link
http://www.warshel.com/3,4-difluorobenzonitrile-cas-6424-62-0/
Quick Inquiry
Fill out our inquiry form and one of our experts will be in touch with you shortly (Please change screen to horizontal for complete browsing if you are checking Watson on your mobile phone).