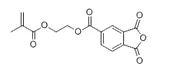 4-META CAS 70293-55-9
Identification
Properties
Safety Data
Specifications andamp; Other Information
Links
Identification
CAS Number
70293-55-9
Name
4-META
Synonyms
1,3-Dioxo-1,3-dihydro-2-benzofurane-5-carboxylate de 2-(méthacryloyloxy)éthyle [French] [ACD/IUPAC Name]
2-(Methacryloyloxy)ethyl 1,3-dioxo-1,3-dihydro-2-benzofuran-5-carboxylate [ACD/IUPAC Name]
2-(Methacryloyloxy)ethyl-1,3-dioxo-1,3-dihydro-2-benzofuran-5-carboxylat [German] [ACD/IUPAC Name]
274-547-0 [EINECS]
5-Isobenzofurancarboxylic acid, 1,3-dihydro-1,3-dioxo-, 2-[(2-methyl-1-oxo-2-propen-1-yl)oxy]ethyl ester [ACD/Index Name]
5-isobenzofurancarboxylic acid, 1,3-dihydro-1,3-dioxo-, 2-[(2-methyl-1-oxo-2-propenyl)oxy]ethyl ester
[70293-55-9]
2-((2-Methyl-1-oxoallyl)oxy)ethyl 1,3-dihydro-1,3-dioxoisobenzofuran-5-carboxylate
2-(1,3-DIOXO-2-BENZOFURAN-5-CARBONYLOXY)ETHYL 2-METHYLPROP-2-ENOATE
2-(2-METHYLPROP-2-ENOYLOXY)ETHYL 1,3-DIOXOISOBENZOFURAN-5-CARBOXYLATE
2-(Methacryloyloxy)ethyl 1,3-dioxo-1,3-dihydroisobenzofuran-5-carboxylate
2-[(2-methyl-1-oxoallyl)oxy]ethyl 1,3-dihydro-1,3-dioxoisobenzofuran-5-carboxylate
4-Meta
4-Methacryloxyethyl trimellitate anhydride
4-Methacryloxyethyl trimellitic anhydride
4-Methacryloxyethyltrimellitic acid anhydride
4-Methacryloxyethyltrimellitic anhydride
4-Methacryloxyethyltrimelliticanhydride
5-Isobenzofurancarboxylic acid, 1,3-dihydro-1,3-dioxo-, 2-((2-methyl-1-oxo-2-propenyl)oxy)ethyl ester
70293-55-9 [RN]
82052-94-6 [RN]
82080-91-9 [RN]
85257-14-3 [RN]
Acrylic solder
Cover-up
meta-Dent
MFCD00080560 [MDL number]
Molecular Structure
SMILES
CC(=C)C(=O)OCCOC(=O)c1ccc2c(c1)C(=O)OC2=O
StdInChI
InChI=1S/C15H12O7/c1-8(2)12(16)20-5-6-21-13(17)9-3-4-10-11(7-9)15(19)22-14(10)18/h3-4,7H,1,5-6H2,2H3
StdInChIKey
RMCCONIRBZIDTH-UHFFFAOYSA-N
Molecular Formula
C15H12O7
Molecular Weight
304.252
MDL Number
MFCD00080560
Properties
Appearance
White crystalline powder
Melting Point
>90°C
Solubility
From our aspect, we would suggest using dichloromethane as the solvent, other choices are MTBE, toluene or other eithers.
Water, methanol or ethanol should be avoided, because 4-META would resolve in them and the structure would change.
Safety Data
WGK Germany
3
MSDS
Specifications and Other Information of Our 4-META CAS 70293-55-9
Standard
Enterprise standard
Identification Methods
HNMR
Purity
95% min
Package
Per request
Storage
Under 2-8 °C for long time storage
Application
It is usually used together with 10-MDP CAS 85590-00-7 as an adhesive in dental area.
Recommended Formulation Use
Research has found that methacrylates with both hydrophobic and hydrophilic groups, like 4-META, enhance monomer
penetration into dentin pretreated with 10% citric acid and 3% ferric chloride (10-3). Examinations revealed the formation of a transitional zone of resin-reinforced dentin, termed the hybrid layer. The 4-META contains two functional groups facilitating a bridge between tooth and adhesives.
General View of Documents
Links
This product is developed by our RD company Warshel Chemical Ltd(http://www.caming.com/), and here is the corresponding linkhttp://www.warshel.com/4-meta-cas-70293-55-9/
Quick Inquiry
Fill out our inquiry form and one of our experts will be in touch with you shortly (Please change screen to horizontal for complete browsing if you are checking Watson on your mobile phone).