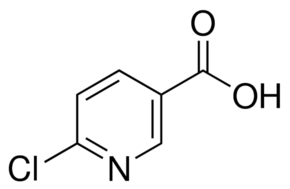 Iden­ti­fi­ca­tion
CAS

Number

5326-23-8
Name
6-Chloron­i­­co­­tinic Acid
Syn­onyms
226-201-5 [EINECS]
3-Pyridinecar­boxylic acid, 6-chloro- [ACD/​Index Name]
5326-23-8 [RN]
6-Chlor­ni­­cot­in­säure [Ger­man] [ACD/IUPAC Name]
6-Chloro-3-pyridinecar­boxylic acid
6-Chloron­i­­co­­tinic acid [ACD/IUPAC Name]
6-Chloropy­­ri­­dine-3-car­boxylic acid [ACD/IUPAC Name]
Acide 6-chloron­i­­co­­tinique [French] [ACD/IUPAC Name]
Acide 6-chloropy­­ri­­dine-3-car­boxylique [French]
T6NJ BG EVQ [WLN]
226-201-5MFCD00006241
2-chloron­­co­­tinic acid
6-​chloron­i­­co­­tinic acid
6-chloro nico­tinic acid
6-chloron­i­­co­­tinic acid stan­dard
6-chloron­i­­co­­tinic acid,0.98
6-chloron­i­­co­­tinic-acid
BR-26081
CA-4048
SBB004004
SMILES
c1cc(ncc1C(=O)O)Cl
Std­InChI
InChI=1S/C6H4ClNO2/c7-5-2-1-4(3-8-5)6(9)10/h1-3H,(H,9,10)
Std­InChIKey
UAWMVM­­PAYR­WUFX-UHF­F­­FAOYSA-N
Mol­e­c­u­lar Formula
C6H4ClNO2
Mol­e­c­u­lar Weight
157.555
EINECS
226-201-5
Beil­stein Reg­istry Number
115993
MDL

Number

MFCD00006241
Prop­er­ties
Appear­ance
Light Yel­low Powder
Melt­ing Point
184.0-187.0°C
Safe­ty Data
Sym­bol
GHS07
Sig­nal Word
Warn­ing
Haz­ard statements
H315-H319-H335
Pre­cau­tion­ary Statements
P261-P305

+

P351

+

P338
Per­son­al Pro­tec­tive Equipment
dust mask type N95 (US), Eye­shields, Gloves
RIDADR
NONH for all modes of transport
WGK

Germany

3
Spec­i­fi­ca­tions and Oth­er Infor­ma­tion of Our 6-Chloron­i­­co­­tinic Acid
CAS

5326-23-8
Iden­ti­fi­ca­tion Methods
HPLC
Assay
98% min
Water
0.5% Max.
Impu­ri­ty
0.5% Max.
Shelf Life
2 years
Stor­age
Under room tem­per­a­ture away from light
Known Appli­ca­tion
Com­mon­ly used as basic raw materials.
Links
This prod­uct is devel­oped by our R
&
D com­pa­ny Wat­son­noke Sci­en­tif­ic Ltd(
http://​www​.wat​son​noke​.com/
), and here is the cor­re­spond­ing link
http://​www​.wat​son​noke​.com/​6​-​c​h​l​o​r​o​n​i​c​o​t​i​n​i​c​-​a​c​i​d​-​c​a​s​-​5​3​2​6​-​2​3​-8/
Quick Inquiry
Fill out our inquiry form and one of our experts will be in touch with you short­ly (Please change screen to hor­i­zon­tal for com­plete brows­ing if you are check­ing Wat­son on your mobile phone).