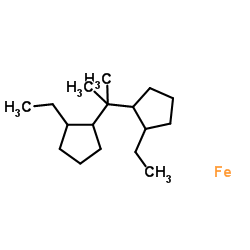 Catocene CAS 37206-42-1
Identification
Properties
Safety Data
Specifications andamp; Other Information
Links
Identification
CAS Number
37206-42-1(69279-97-6)
Name
Catocene
Synonyms
1,1′-(2,2-Propandiyl)bis(2-ethylcyclopentan) -eisen (1:1) [German] [ACD/IUPAC Name]
1,1′-(2,2-Propanediyl)bis(2-éthylcyclopentane) – fer (1:1) [French] [ACD/IUPAC Name]
1,1′-(2,2-Propanediyl)bis(2-ethylcyclopentane) – iron (1:1) [ACD/IUPAC Name]
Cyclopentane, 1,1′-(1-methylethylidene)bis[2-ethyl-, iron salt (1:1) [ACD/Index Name]
37206-42-1 [RN]
Catocene
Molecular Structure
SMILES
CCC1CCCC1C(C)(C)C2CCCC2CC.[Fe]
StdInChI
InChI=1S/C17H32.Fe/c1-5-13-9-7-11-15(13)17(3,4)16-12-8-10-14(16)6-2;/h13-16H,5-12H2,1-4H3;
StdInChIKey
DQQVBJMLZIUIEA-UHFFFAOYSA-N
Molecular Formula
C17H32Fe
Molecular Weight
292.28
Properties
Appearance
Brown red viscous liquid
Density
1.2910~1.2960g/cm3
Safety Data
Symbol
WGK Germany
3
Specifications and Other Information of Our Catocene CAS 37206-42-1
Standard
Enterprise standard
Purity
≥97.5%
Iron content
23.3~24.3%
Viscosity
<2.8 Pa·s
Water
andlt;0.08%
Acidity
<0.30mmol/100g
Insolubles
andlt; 0.10%
Volatile loss
<2.0%
Package
According to customer requirements to packaging
Storage
Under the room temperature and away from light.
Application
Catocene is used in a variety of composite solid propellant as high-rate burning catalyst, with excellent overall performance, mobility and other characteristics. As a binuclear ferrocene derivative, the use of AP as an oxidizing agent in the composite solid propellant has the effect of improving the burning rate and reducing the pressure index.
Links
This product is developed by our RD company Warshel Chemical Ltd(http://www.warshel.com/), and here is the corresponding linkhttp://www.warshel.com/catocene-cas-37206-42-1/
Quick Inquiry
Fill out our inquiry form and one of our experts will be in touch with you shortly (Please change screen to horizontal for complete browsing if you are checking Watson on your mobile phone).