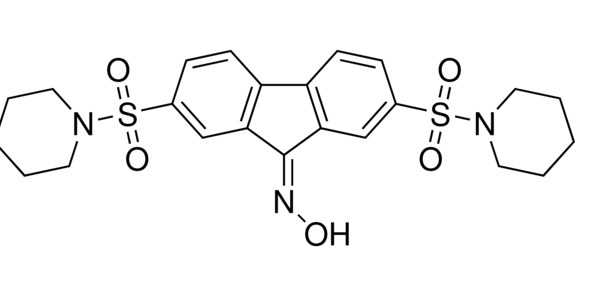 Iden­ti­fi­ca­tion
CAS

Number

300802-28-2
Name
CIL56 (CA3, 2,7-bis(1-piperidinylsulfonyl)-9H-fluoren-9-one, oxime)
Syn­onyms
2,7-Bis-(piperidine-1-sulfonyl)-fluoren-9-one oxime
300802-28-2 [RN]
9H-Flu­o­ren-9-one, 2,7-bis(1-piperidinylsulfonyl)-, oxime [ACD/​Index Name]
CIL56
N-[2,7-bis(piperidine-1-sulfonyl)-9H-fluoren-9-ylidene]hydroxylamine
N-Hydroxy-2,7-bis(1-piperidinylsulfonyl)-9H-fluoren-9-imin [Ger­man] [ACD/IUPAC Name]
N-Hydroxy-2,7-bis(1-piperidinylsulfonyl)-9H-fluoren-9-imine [ACD/IUPAC Name]
N-Hydroxy-2,7-bis(1-pipéridinylsulfonyl)-9H-fluorén-9-imine [French] [ACD/IUPAC Name]
1,1′-[[9-(hydroxyimino)-9H-fluorene-2,7-diyl]bis(sulfonyl)]bis- (9CI)
1,1′-[[9-(Hydroxyimino)-9H-fluorene-2,7-diyl]bis(sulfonyl)]bis-piperidine
2,7-bis(1-Piperidinylsulfonyl)-9H-fluoren-9-one oxime
2,7-bis(1-piperidinylsulfonyl)-9H-fluoren-9-one, oxime
2,7-bis(piperidin-1-ylsulfonyl)-9H-fluoren-9-one oxime
CA3
CA3 – Bio-X
CA3|CIL 56
cid_​654092
CIL 56
MFCD00323348
SMILES
c1cc-2c(cc1S(=O)(=O)N3CCCCC3)C(=NO)c4c2ccc(c4)S(=O)(=O)N5CCCCC5
Std­InChI
InChI=1S/C23H27N3O5S2/c27-24-23-21-15-17(32(28,29)25-11-3-1-4-12-25)7-9-19(21)20-10-8-18(16-22(20)23)33(30,31)26-13-5-2-6-14-26/h7-10,15-16,27H,1-6,11-14H2
Std­InChIKey
XYZX­EEIUKQGUHB-UHF­F­­FAOYSA-N
Mol­e­c­u­lar Formula
C23H27N3O5S2
Mol­e­c­u­lar Weight
489.608
MDL

Number

MFCD00323348
Prop­er­ties
Appear­ance
White to off-white powder
Safe­ty Data
WGK

Germany

3
Spec­i­fi­ca­tions and Oth­er Infor­ma­tion of Our
CIL56

(

CA3

, 2,7-bis(1-piperidinylsulfonyl)-9H-fluoren-9-one, oxime)

CAS

300802-28-2
Iden­ti­fi­ca­tion Methods
HNMR
Puri­ty
97% min
Sol­u­bil­i­ty
DMF

: 10 mg/​ml

DMSO

: 10 mg/​ml

DMSO

:

PBS

(pH 7.2)(1:9): 0.1 mg/​ml
Ethanol : 0.15 mg/​ml
λmax
224, 267, 308 nm
Shelf Life
4 years
Stor­age
Store at -20°C for long time.
Pro­duc­tiv­i­ty
1MT/​month
Known Appli­ca­tion
CA3 (CIL56) has a potent inhibito­ry effect on YAP1/​Tead tran­scrip­tion­al activ­i­ty and main­ly tar­gets refrac­to­ry esophageal ade­no­car­ci­no­ma cells with high YAP1 expres­sion and can­cer stem cell prop­er­ties. CA3(CIL56) induces fer­rop­to­sis and iron-depen­­dent reac­tive oxy­gen species.
Gen­er­al View of Documents
Links
This prod­uct is devel­oped by our R&D com­pa­ny Wat­son Bio Ltd (https://​www​.wat​son​-bio​.com/).
Quick Inquiry
Fill out our inquiry form and one of our experts will be in touch with you shortly.