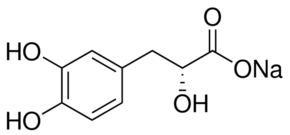 Danshensu CAS 76822-21-4
Identification
CAS Number
76822-21-4
Name
Danshensu
Synonyms
(2R)-3-(3,4-Dihydroxyphenyl)-2-hydroxypropanoic acid [ACD/IUPAC Name]
(2R)-3-(3,4-Dihydroxyphenyl)-2-hydroxypropansäure [German] [ACD/IUPAC Name]
4GF33A5PAJ
76822-21-4 [RN]
Acide (2R)-3-(3,4-dihydroxyphényl)-2-hydroxypropanoïque [French] [ACD/IUPAC Name]
Benzenepropanoic acid, α,3,4-trihydroxy-, (αR)- [ACD/Index Name]
Danshensu
(2R)-3-(3,4-dihydroxyphenyl)-2-hydroxy-propanoic acid
(2R)-3-(3,4-dihydroxyphenyl)-2-hydroxy-propionic acid
(2R)-3-(3,4-dihydroxyphenyl)lactic acid
(R)-3-(3,4-Dihydroxyphenyl)-2-hydroxypropanoic acid
(R)-3-(3,4-Dihydroxyphenyl)-2-hydroxypropanoicacid
2-(7H-PYRROLO[2,3-D]PYRIMIDIN-4-YL)ISOINDOLINE-1,3-DIONE
22681-72-7 [RN]
3,4-dihydroxyphenyllactic acid
CHEBI:71572
Dan Shen Su;Dan shen suan A;Salvianic acid A;Salianic acid A
Dan shen suan A
Danshensu Salvianic acid A
http://en.atomaxchem.com/76822-21-4.html
MFCD09038703 [MDL number]
MFCD09750417 [MDL number]
Salianic acid A
Salvianic acid A
Sodium danshensu
UNII:4GF33A5PAJ
UNII-4GF33A5PAJ
SMILES
c1cc(c(cc1C[[email protected]](C(=O)O)O)O)O
StdInChI
InChI=1S/C9H10O5/c10-6-2-1-5(3-7(6)11)4-8(12)9(13)14/h1-3,8,10-12H,4H2,(H,13,14)/t8-/m1/s1
StdInChIKey
PAFLSMZLRSPALU-MRVPVSSYSA-N
Molecular Formula
C9H10O5
Molecular Weight
198.173
MDL Number
MFCD07781415
Properties
Appearance
Brown Powder
Safety Data
RIDADR
NONH for all modes of transport
WGK Germany
3
Specifications and Other Information of Our Danshensu CAS 76822-21-4
Identification Methods
HPLC
Salvianic acid A
≥10.0%
Particle Size
Pass 80 mesh : ≥50.0%
Loss on drying
≤5.0%
Ash
≤5.0%
Heavy metal
≤10ppm
Pb
≤0.5ppm
As
≤0.3ppm
Hg
≤0.1ppm
Cd
≤1.0ppm
Total Plate Count
≤1000 cfu/g
Yeast&Mold
≤100 cfu/g
E.Coil
Negative
Salmonella
Negative
Shelf Life
2 years
Storage
Store incool & dry place; Keep away from strong and hear
Known Application
Danshensu has the effects of relaxing coronary artery smooth muscles and curing myocardial infarction. It is mostly used for promoting blood circulation and removing blood stasis, regulating qi and analgesic, used for chest tightness and angina pectoris.
Links
This product is developed by our R&D company Ulcho Biochemical Ltd(
http://www.ulcho.com/
), and here is the corresponding link
http://www.ulcho.com/danshensu-cas-76822-21-4/
Quick Inquiry
Fill out our inquiry form and one of our experts will be in touch with you shortly (Please change screen to horizontal for complete browsing if you are checking Watson on your mobile phone).