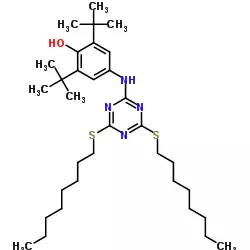 2,4-Bis(octylthio)-6-(4-hydroxy-3,5-di-tert-butylanilino)-1,3,5-triazine CAS 991-84-4
Name
2,4-Bis(octylthio)-6-(4-hydroxy-3,5-di-tert-butylanilino)-1,3,5-triazine
Synonyms
Molecular Formula
C33H56N4OS2
Molecular Weight
588.95
CAS Number (Or Watson Number for Non-CAS Products)
991-84-4
EINECS
213-590-1
Appearance
White to light yellow powder
Melting Point
91-97 degrees centigrade
Boiling Point
Other Properties
It has a small amount of added, low volatility, high color fastness, and can prevent gel formation.
Purity
99.00%
Water
Absorption Peaks
Use
It is mainly suitable for the post-processing stabilization of unsaturated rubber. It is very effective for elastomers. It can protect materials from thermal oxidation degradation during production, processing and final use. It is an excellent antioxidant and photo-thermal stabilizer for many resins.
Links
This product is developed by our R&D company Warshel Chemical Ltd (http://www.warshel.com/), and here is the corresponding link http://warshel.com/2,4-Bis(octylthio)-6-(4-hydroxy-3,5-di-tert-butylanilino)-1,3,5-triazine-cas-991-84-4/
Quick Inquiry
Fill out our inquiry form and one of our experts will be in touch with you shortly.