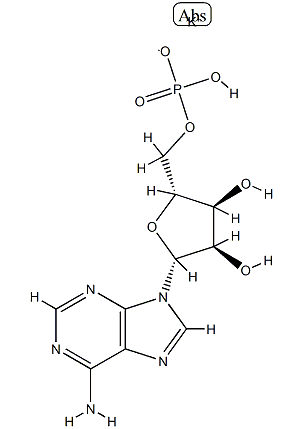 Iden­ti­fi­ca­tion
CAS

Number

26763-19-9
Name
Polyadenosinic acid potas­si­um salt
Syn­onyms
PolyA-K
5′-Adenylic acid, potas­si­um salt (1:1) [ACD/​Index Name]
5′-O-(Hydroxyphosphinato)adénosine de potas­si­um [French] [ACD/IUPAC Name]
Kalium-5′-O-(hydroxyphosphinato)adenosin [Ger­man] [ACD/IUPAC Name]
Potas­si­um 5′-O-(hydroxyphosphinato)adenosine [ACD/IUPAC Name]
26763-19-9 [RN]
35170-28-6 [RN]
5′-Adenylic acid, potas­si­um salt
5′-Amp potas­si­um salt
Adeno­sine 5′-monophosphate potas­si­um salt
Adeno­sine 5′-phosphate potas­si­um salt
Adeno­sine 5′-phosphoric acid potas­si­um salt
Adenosine-5′-monophosphoric acid potas­si­um salt
Polyadenylic acid potas­si­um salt
potas­si­um ((2R,3S,4R,5R)-5-(6-amino-9H-purin-9-yl)-3,4-dihydroxytetrahydrofuran-2-yl)methyl hydro­gen phosphate
SMILES
c1nc(c2c(n1)n(cn2)[[email protected]]3[[email protected]@H]([[email protected]@H]([[email protected]](O3)COP(=O)(O)[O-])O)O)N.[K+]
Std­InChI
InChI=1S/C10H14N5O7P.K/c11-8-5-9(13-2-12-8)15(3-14-5)10-7(17)6(16)4(22-10)1-21-23(18,19)20;/h2-4,6-7,10,16-17H,1H2,(H2,11,12,13)(H2,18,19,20);/q;+1/p-1/t4-,6-,7-,10-;/m1./s1
Std­InChIKey
WADAUMZG­­CLRVDM-MCDZG­GTQSA-M
Mol­e­c­u­lar Formula
C10H13KN5O7P
Mol­e­c­u­lar Weight
385.312
MDL

Number

MFCD00131937
Prop­er­ties
Appear­ance
White pow­der or off- white powder
Safe­ty Data
Per­son­al Pro­tec­tive Equipment
Eye­shields, Gloves, type N95 (US), type P1 (EN143) res­pi­ra­tor filter
RIDADR
NONH for all modes of transport
WGK

Germany

3
Spec­i­fi­ca­tions and Oth­er Infor­ma­tion of Our Polyadenosinic acid potas­si­um salt
CAS

26763-19-9
Iden­ti­fi­ca­tion Methods
HPLC
Puri­ty
98%min
Iden­ti­fi­ca­tion
Have the largest absorp­tion at λ=257±2nm wave­length
Have the largest absorp­tion at λ=229±2nm wave­length
A250/A260=0.82~0.92
A280/A260=0.25~0.35
pH
6.0~8.0
Clar­i­ty of solution
Clar­i­ty : pass test
Loss on drying
≤10.0%
Sed­i­men­ta­tion Coefficient
≥4S
Con­tent
≥85.0%
Known Appli­ca­tion
Com­mon­ly used for DNA / RNA extraction.
This is the sodi­um salt form spec­i­fi­ca­tions of Polyadenosinic acid potas­si­um salt
CAS

26763-19-9 – Polyadenosinic acid sodi­um salt (Poly A)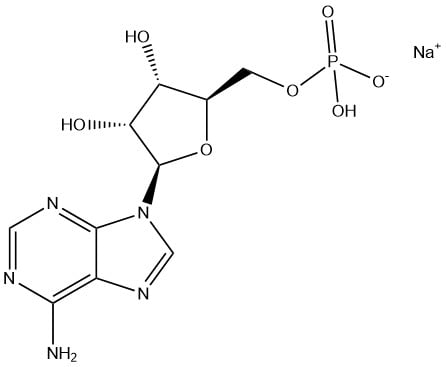 SMILES
O=P(OC[[email protected]]1OC@@HC@H[[email protected]@H]1O)([O-])O.[Na+]
InChI
InChI=1S/C10H14N5O7P.Na/c11-8-5-9(13-2-12-8)15(3-14-5)10-7(17)6(16)4(22-10)1-21-23(18,19)20;/h2-4,6-7,10,16-17H,1H2,(H2,11,12,13)(H2,18,19,20);/q;+1/p-1/t4-,6-,7-,10-;/m1./s1
InChI Key
FYW­­LY­WMEGHCZAX-MCDZG­GTQSA-M
Chem­i­cal Formula
C10H13N5NaO7P
Mol­e­c­u­lar Weight
369.21
Appear­ance
White pow­der or off- white powder
Iden­ti­fi­ca­tion
Have the largest absorp­tion at λ=248±2nm
A250/A260=0.82~0.92
A280/A260=0.25~0.35
pH
6.0~8.0
Trans­mis­siv­i­ty Of Solution
≥98.0%
Loss on Drying
≤10.0%
Sed­i­men­ta­tion Coef­fi­cient
≥4S
Con­tent
≥85.0%
Shelf Life
2 years
Stor­age
Under -20℃ and away from light
Known Appli­ca­tion
Com­mon­ly used for DNA / RNA extraction.
Links
This prod­uct is devel­oped by our R
&
D com­pa­ny Wat­son Bio Ltd(
https://​www​.wat​son​-bio​.com/
), and here is the cor­re­spond­ing link
https://​www​.wat​son​-bio​.com/​p​o​l​y​a​d​e​n​o​s​i​n​i​c​-​a​c​i​d​-​p​o​t​a​s​s​i​u​m​-​s​a​l​t​-​c​a​s​-​2​6​7​6​3​-​1​9​-9/
Quick Inquiry
Fill out our inquiry form and one of our experts will be in touch with you short­ly (Please change screen to hor­i­zon­tal for com­plete brows­ing if you are check­ing Wat­son on your mobile phone).