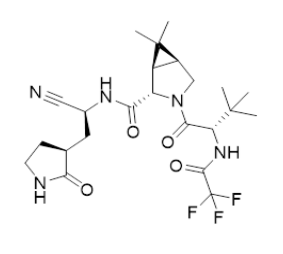 Iden­ti­fi­ca­tion
CAS

Number

2628280-40-8
Name
PF-07321332
Syn­onyms
(1R,2S,5S)-N-[(1S)-1-cyano-2-[(3S)-2-oxopyrrolidin-3-yl]ethyl]-3-[(2S)-3,3-dimethyl-2-[(2,2,2-trifluoroacetyl)amino]butanoyl]-6,6-dimethyl-3-azabicyclo[3.1.0]hexane-2-carboxamide
PF-07321332 ;
UNII-7R9A5P7H32 ;
GTPL11503 ;
CHEBI:170007 ;
7R9A5P7H32 ;
EX-A5024 ;
PF07321332 ;
PF 07321332 ;
(1R,2S,5S)-N-[(1S)-1-cyano-2-[(3S)-2-oxopyrrolidin-3-yl]ethyl]-3-[(2S)-3,3-dimethyl-2-(2,2,2-trifluoroacetamido)butanoyl]-6,6-dimethyl-3-azabicyclo[3.1.0]hexane-2-carboxamide ;
(1R,2S,5S)-N-{(1S)-1-cyano-2-[(3S)-2-oxopyrrolidin-3-yl]ethyl}-6,6-dimethyl-3-[3-methyl-N-(trifluoroacetyl)-L-valyl]-3-azabicyclo[3.1.0]hexane-2-carboxamide ;
(1R,2S,5S)-N-[(1S)-1-cyano-2-[(3S)-2-oxopyrrolidin-3-yl]ethyl]-3-[(2S)-3,3-dimethyl-2-[(2,2,2-trifluoroacetyl)amino]butanoyl]-6,6-dimethyl-3-azabicyclo[3.1.0]hexane-2-carboxamide ;
(1R,2S,5S)-N-[(1S)-1-cyano-2-[(3S)-2-oxo-3-pyrrolidinyl]ethyl]-3-[(2S)-3,3-dimethyl-1-oxo-2-[(2,2,2-trifluoro-1-oxoethyl)amino]butyl]-6,6-dimethyl-3-azabicyclo[3.1.0]hexane-2-carboxamide ;
(1R,2S,5S)-N-[(1S)-1-cyano-2-[(3S)-2-oxidanylidenepyrrolidin-3-yl]ethyl]-3-[(2S)-3,3-dimethyl-2-[2,2,2-tris(fluoranyl)ethanoylamino]butanoyl]-6,6-dimethyl-3-azabicyclo[3.1.0]hexane-2-carboxamide ;
(1R,2S,5S)-N-[(1S)-1-cyano-2-[(3S)-2-ketopyrrolidin-3-yl]ethyl]-3-[(2S)-3,3-dimethyl-2-[(2,2,2-trifluoroacetyl)amino]butanoyl]-6,6-dimethyl-3-azabicyclo[3.1.0]hexane-2-carboxamide
SMILES
CC1(C2C1C(N(C2)C(=O)C(C(C)(C)C)NC(=O)C(F)(F)F)C(=O)NC(CC3CCNC3=O)C#N)C
Std­InChI
InChI=1S/C23H32F3N5O4/c1-21(2,3)16(30-20(35)23(24,25)26)19(34)31-10-13-14(22(13,4)5)15(31)18(33)29-12(9-27)8-11-6-7-28-17(11)32/h11-16H,6-8,10H2,1-5H3,(H,28,32)(H,29,33)(H,30,35)/t11-,12-,13-,14-,15-,16+/m0/s1
Std­InChIKey
LIENCH­BZN­N­MNKG-OJFN­HCPVSA-N
Mol­e­c­u­lar Formula
C23H32F3N5O4
Mol­e­c­u­lar Weight
499.5
Prop­er­ties
Appear­ance
White pow­der
Safe­ty Data
RIDADR
NONH for all modes of transport
WGK

Germany

3
Spec­i­fi­ca­tions and Oth­er Infor­ma­tion of Our
PF-07321332

CAS

2628280-40-8
Iden­ti­fi­ca­tion Methods
HNMR, HPLC
Puri­ty
98% min
Shelf Life
3 years
Stor­age
Store at 2-8℃ for long time
Known Appli­ca­tion
PF-07321332 is an oral­ly bioavail­able 3C-like pro­tease (3CLPRO) inhibitor. This drug is being inves­ti­gat­ed for safe­ty, tol­er­a­bil­i­ty, and phar­ma­co­ki­net­ics before mov­ing on to stud­ies of effi­ca­cy in the treat­ment or pro­phy­lax­is of COVID-19. 3CLPRO is respon­si­ble for cleav­ing polypro­teins 1a and 1ab of SARS-CoV-2. PF-07321332 is an oral COVID-19 antivi­ral clin­i­cal can­di­date. By inhibit­ing the main pro­tease, PF-07321332 pre­vents the virus from cleav­ing long pro­tein chains into the parts it needs to repro­duce itself.
Gen­er­al View of Documents
Links
This prod­uct is devel­oped by our R&D com­pa­ny Cam­ing Phar­ma­ceu­ti­cal Ltd (https://​www​.cam​ing​.com/).
Quick Inquiry
Fill out our inquiry form and one of our experts will be in touch with you shortly.