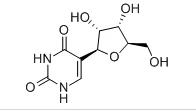 Identification
Properties
Safety Data
Specifications andamp; Other Information
Links
Identification
CAS Number
1445-07-4
Name
Pseudouridine
Synonyms
(1S)-1,4-Anhydro-1-(2,4-dihydroxy-5-pyrimidinyl)-D-ribitol [German] [ACD/IUPAC Name] (1S)-1,4-Anhydro-1-(2,4-dihydroxy-5-pyrimidinyl)-D-ribitol [ACD/IUPAC Name] (1S)-1,4-Anhydro-1-(2,4-dihydroxy-5-pyrimidinyl)-D-ribitol [French] [ACD/IUPAC Name] (1S)-1,4-Anhydro-1-(2,4-dioxo-1,2,3,4-tetrahydro-5-pyrimidinyl)-D-ribitol [ACD/IUPAC Name] (1S)-1,4-Anhydro-1-(2,4-dioxo-1,2,3,4-tetrahydro-5-pyrimidinyl)-D-ribitol [German] [ACD/IUPAC Name] (1S)-1,4-Anhydro-1-(2,4-dioxo-1,2,3,4-tétrahydro-5-pyrimidinyl)-D-ribitol [French] [ACD/IUPAC Name] 2,4(1H,3H)-Pyrimidinedione, 5-β-D-ribofuranosyl- 2,4(1H,3H)-Pyrimidinedione, 5-β-D-ribofuranosyl- 5-(b-D-Ribofuranosyl)uracil 5-b-D-ribofuranosyl-Uracil D-Ribitol, 1,4-anhydro-1-C-(1,2,3,4-tetrahydro-2,4-dioxo-5-pyrimidinyl)-, (1S)- [ACD/Index Name] D-Ribitol, 1,4-anhydro-1-C-(2,4-dihydroxy-5-pyrimidinyl)-, (1S)- [ACD/Index Name] pseudouridine [Wiki] Uracil, 5-β-D-ribofuranosyl- 5-(b-δ-Ribofuranosyl)uracil 5-β-δ-ribofuranosyl-Uracil b-D-Pseudouridine b-Pseudouridine y-Uridine β-δ-Pseudouridine (1S)-1,4-anhydro-1-(2,4-dioxo-1,2,3,4-tetrahydropyrimidin-5-yl)-D-ribitol [1445-07-4] 144490-03-9 [RN] 1445-07-4 [RN] 2,4(1H,3H)-Pyrimidinedione, 5-β-D-ribofuranosyl 32779 [Beilstein] 5-((2S,3R,4S,5R)-3,4-Dihydroxy-5-(hydroxymethyl)tetrahydrofuran-2-yl)pyrimidine-2,4(1H,3H)-dione 5-(b-D-Ri bofuranosyl)uracil 5-(β-D-ribofuranosyl)pyrimidine-2,4(1H,3H)-dione 5-(β-D-Ribofuranosyl)uracil 5-?-D-Ribofuranosylpyrimidine-2,4(1H,3H)-dione 5-[(2S,3R,4S,5R)-3,4-dihydroxy-5-(hydroxymethyl)oxolan-2-yl]-1,2,3,4-tetrahydropyrimidine-2,4-dione 5-Ribosyluracil MFCD00038458 Pseudouridine C Uracil, 5-β-D-ribofuranosyl- (6CI,7CI,8CI) β-D-Pseudouridine β-Pseudouridine ψ-uridine ψ-Uridine
Molecular Structure
SMILES
c1c(c(nc(n1)O)O)[
[email protected]
]2[
[email protected]
@H]([
[email protected]
@H]([
[email protected]
](O2)CO)O)O
StdInChI
c1c(c(nc(n1)O)O)[
[email protected]
]2[
[email protected]
@H]([
[email protected]
@H]([
[email protected]
](O2)CO)O)O
StdInChIKey
PTJWIQPHWPFNBW-GBNDHIKLSA-N
Molecular Formula
C9H12N2O6
Molecular Weight
244.2
Properties
Appearance
White to Off white powder
Safety Data
WGK Germany
3
Specifications and Other Information of Our Pseudouridine CAS 1445-07-4
Standard
Enterprise standard
Identification Methods
HPLC
Purity
98.5%min
Moisture
≤2.0%
Package
According to customer requirements to packaging
Storage
Store at 2-8°C for long-term.
Application
Used as the pharmaceutical intermediates. An isomer of the nucleoside uridine found in all species and in many classes of RNA except mRNA. It is formed by enzymes called synthases, which post-transcriptionally isomerize specific uridine res idues in RNA in a process termed pseudouridylation. Studies suggest that β-Pseudouridine reduces radiation-induced chromosome aberrations in human lymphocytes.
General View of Documents
Links
This product is developed by our RD company Ulcho Biochemical Ltd(
http://www.ulcho.com/
), and here is the corresponding link
http://www.ulcho.com/pseudouridine-cas-1445-07-4/
Quick Inquiry
Fill out our inquiry form and one of our experts will be in touch with you shortly (Please change screen to horizontal for complete browsing if you are checking Watson on your mobile phone).