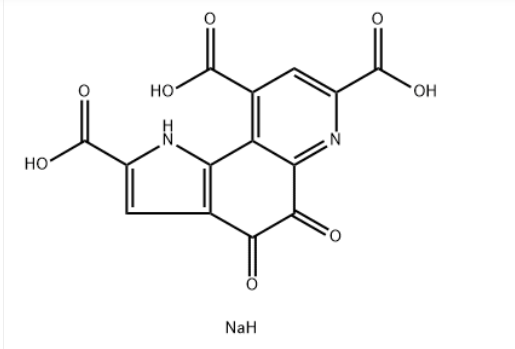 Iden­ti­fi­ca­tion
CAS

Number

122628-50-6
Name
Pyrrolo­quino­line quinone Dosodi­um Salt
Syn­onyms
122628-50-6 [RN]
1H-Pyrrolo[2,3-f]quinoline-2,7,9-tricarboxylic acid, 4,5-dihydro-4,5-dioxo-, sodi­um salt (1:2) [ACD/​Index Name]
2-Carboxy-4,5-dioxo-4,5-dihydro-1H-pyrrolo[2,3-f]quinoléine-7,9-dicarboxylate de dis­odi­um [French] [ACD/IUPAC Name]
Dinatrium-2-carboxy-4,5-dioxo-4,5-dihydro-1H-pyrrolo[2,3-f]chinolin-7,9-dicarboxylat [Ger­man] [ACD/IUPAC Name]
Dis­odi­um 2-carboxy-4,5-dioxo-4,5-dihydro-1H-pyrrolo[2,3-f]quinoline-7,9-dicarboxylate [ACD/IUPAC Name]
DIS­ODI­UM PYRROLO­QUINO­LINE­DIONE TRI­CAR­BOXY­LATE
PYRROLO­QUINO­LINE QUINONE DIS­ODI­UM SALT
1H-Pyrrolo(2,3-f)quinoline-2,7,9-tricarboxylic acid, 4,5-dihydro-4,5-dioxo-, dis­odi­um salt
DIS­ODI­UM 2-CAR­BOXY-4,5-DIOXO-1H,4H,5H-PYRRO­LO[2,3-F]QUINO­LINE-7,9-DICAR­BOXY­LATE
DIS­ODI­UM 2-CAR­BOXY-4,5-DIOXO-1H-PYRRO­LO[2,3-F]QUINO­LINE-7,9-DICAR­BOXY­LATE
Dis­odi­um 4,5-dihydro-4,5-dioxo-1H-pyrrolo(2,3-f)quinoline-2,7,9-tricarboxylate
dis­odi­um 9-carboxy-4,5-diketo-1H-pyrrolo[5,4-f]quinoline-2,7-dicarboxylate
dis­odi­um 9-carboxy-4,5-dioxo-1H,4H,5H-pyrrolo[2,3-f]quinoline-2,7-dicarboxylate
dis­odi­um 9-carboxy-4,5-dioxo-1H-pyrrolo[5,4-f]quinoline-2,7-dicarboxylate
Methox­atin (dis­odi­um salt)
Methox­atin Dis­odi­um
Methox­atin dis­odi­um salt
MFCD00151711
PQQ
Pyrro­­lo-quino­­line-quinone dis­odi­um salt
Pyrrolo­quino­linequinone dis­odi­um salt;BioPQQ
sodi­um 2-carboxy-4,5-dioxo-4,5-dihydro-1H-pyrrolo[2,3-f]quinoline-7,9-dicarboxylate
SMILES
c1c2c([nH]c1C(=O)O)-c3c(cc(nc3C(=O)C2=O)C(=O)[O-])C(=O)[O-].[Na+].[Na+]
Std­InChI
InChI=1S/C14H6N2O8.2Na/c17-10-4-2-6(14(23)24)15-8(4)7-3(12(19)20)1-5(13(21)22)16-9(7)11(10)18;;/h1-2,15H,(H,19,20)(H,21,22)(H,23,24);;/q;2*+1/p-2
Std­InChIKey
UFVB­O­­GY­D­CJNLPM-UHF­F­­FAOYSA-L
Mol­e­c­u­lar Formula
C14H4N2Na2O8
Mol­e­c­u­lar Weight
374.170
EINECS
209-118-9
MDL

Number

MFCD00151711
Prop­er­ties
Appear­ance
Red­dish orange to red­dish brown powder
Safe­ty Data
Sig­nal Word
Warn­ing
WGK

Germany

3
MSDS

Download
Spec­i­fi­ca­tions and Oth­er Infor­ma­tion of Our
Iden­ti­fi­ca­tion Methods
HNMR, HPLC
Puri­ty
99% min
Heavy Met­als
As: ≤1.5ppm
Hg: ≤0.5ppm
Cd: ≤0.5ppm
Pb:≤1ppm
Water
≤12%
TOTAL
PLATE
COUNT
≤1000CFU/​g
YEAST
AND
MOLD
≤100CFU/​g
E.
COLI
≤0.92MPN/​g
STAPHY­LO­COC­CUS
AUREUS
0/​25g
SAL­MO­NEL­LA
0/​25g
Shelf Life
2 years
Stor­age
Store at room tem­per­a­ture, sealed and away from light.
Known Appli­ca­tion
Pyrrolo­quino­line quinone Dosodi­um Salt,the sci­en­tif­ic name of PQQ is pyrrolo­quino­line quinone, which is a new pros­thet­ic group that can treat heart dis­ease, neu­ro­log­i­cal dis­eases, pro­tect the liv­er, and main­tain mito­chon­dr­i­al func­tion. Pyrrolo­quino­line quinone is wide­ly found in prokary­otes, plants and mam­mals. It is not only the pros­thet­ic group of many enzymes, it is respon­si­ble for the func­tion of trans­fer­ring elec­trons, pro­tons and chem­i­cal groups in enzy­mat­ic reac­tions, and can also stim­u­late The growth of microor­gan­isms, the ger­mi­na­tion of plant pollen, and the pro­mo­tion of plant growth.
Gen­er­al View of Documents
Links
This prod­uct is devel­oped by our R&D com­pa­ny Cam­ing Phar­ma­ceu­ti­cal Lim­it­ed (http://​www​.cam​ing​.com/)).
Quick Inquiry
Fill out our inquiry form and one of our experts will be in touch with you shortly.