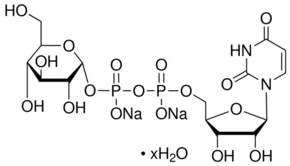 Iden­ti­fi­ca­tion
Prop­er­ties
Safe­ty Data
Spec­i­fi­ca­tions and Oth­er Information
Links
Iden­ti­fi­ca­tion
CAS

Number

28053-08-9
Name
Uri­dine 5′-diphosphoglucose dis­odi­um salt
Syn­onyms
(3,4-Dihydroxytetrahydro-2-furanyl)methyl 3,4,5-trihydroxy-6-(hydroxymethyl)tetrahydro-2H-pyran-2-yl dihy­dro­gen diphos­phate [
ACD
/
IUPAC
Name] (3,4-Dihydroxytetrahydro-2-furanyl)methyl-3,4,5-trihydroxy-6-(hydroxymethyl)tetrahydro-2H-pyran-2-yldihydrogendiphosphat [Ger­man] [
ACD
/
IUPAC
Name] 248-801-6 [
EINECS
] 28053-08-9 [
RN
] Dihy­drogén­odiphos­phate de (3,4-dihydroxytétrahydro-2-furanyl)méthyle et de 3,4,5-trihydroxy-6-(hydroxyméthyl)tétrahydro-2H-pyran-2-yle [French] [
ACD
/
IUPAC
Name]
Mol­e­c­u­lar Structure
SMILES
C1C
(C(C(
O1
)
COP
(=O)(O)
OP
(=O)(O)
OC2C
(C(C(C(
O2
)
CO
)O)O)O)O)O
Std­InChI
InChI=
1S
/
C11H22O15P2
/c12-1-5-8(15)9(16)10(17)11(24-5)25-28(20,21)26-27(18,19)23-3-6-7(14)4(13)2-22-6/h4-17H,1-3H2,(H,18,19)(H,20,21)
Std­InChIKey
ZZA­H­NEVHQY­WAEU-UHF­F­­FAOYSA-N
Mol­e­c­u­lar Formula
C15H22N2Na2O17P2
Mol­e­c­u­lar Weight
610.26
EINECS
248-801-6
MDL

Number

MFCD20441966
Prop­er­ties
Appear­ance
White or almost white pow­der or crys­talline pow­der
Safe­ty Data
WGK

Germany

3
Spec­i­fi­ca­tions and Oth­er Infor­ma­tion of Our Uri­dine 5′-diphosphoglucose dis­odi­um salt

CAS

28053-08-9
Stan­dard
Enter­prise stan­dard
Iden­ti­fi­ca­tion Methods
HPLC
/
IR
Puri­ty
95%min
Loss on Drying
20%max
Con­tent
85%min
Stor­age
Pre­serve in tight,light-resistant containers,in a freez­ing place.
Appli­ca­tion
As a active sub­stance of hepato­pro­tec­tive,
UDP-G
can enhance liv­er detox­i­fi­ca­tion func­tion. It plays an irre​place​.able role in the treat­ment of liv­er dam­age caused by drugs and can be clin­i­cal­ly used for the treat­ment of tox­ic and infec­tious hepati­tis. And it can increase endurance for can­cer patients under­go­ing chemother­a­py by using
5-FU
,so as to enhance the ther­a­peu­tic effect. Also used as phar­ma­ceu­ti­cal inter­me­di­ates, and also can be used for the syn­the­sis of oligosac­cha­ride.
Gen­er­al View of Documents
Links
This prod­uct is devel­oped by our RandD com­pa­ny Ulcho Bio­chem­i­cal Ltd (
http://​www​.ulcho​.com/
), and here is the cor­re­spond­ing link
http://​www​.ulcho​.com/​u​r​i​d​i​n​e​-​5​-​d​i​p​h​o​s​p​h​o​g​l​u​c​o​s​e​-​d​i​s​o​d​i​u​m​-​s​a​l​t​-​c​a​s​-​2​8​0​5​3​-​0​8​-9/
Quick Inquiry
Fill out our inquiry form and one of our experts will be in touch with you short­ly (Please change screen to hor­i­zon­tal for com­plete brows­ing if you are check­ing Wat­son on your mobile phone).
andD pur­pose. It may be tox­ic or haz­ardous, and should be han­dled only by qual­i­fied indi­vid­u­als trained in lab­o­ra­to­ry pro­ce­dures. The buy­er will be respon­si­ble to warn and inform any per­son that may be in con­tact with the prod­uct of the poten­tial risks and haz­ards, as well as to ensure that pur­chase, use and dis­pos­al of the prod­uct com­ply with local laws and regulations.