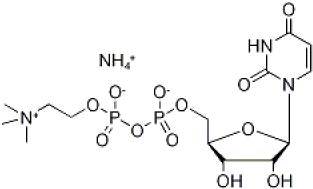 Uridine diphosphate Choline sodium salt CAS NNA-0002

Identification
Properties
Safety Data
Specifications and Other Information
Links
Identification
CAS Number
NNA-0002
Name
Uridine diphosphate Choline sodium salt
Synonyms
UDPC,Na; UDPC-Na
Molecular Structure
Molecular Formula
C14H24N3O12P2Na
Molecular Weight
511.3
Properties
Appearance
White or almost white powder
Solubility
Freely soluble in water, insoluble in ethanol, chloroform and acetone.
Specifications and Other Information of Our Uridine diphosphate Choline sodium salt CAS NNA-0002
Standard
Enterprise standard
Identification Methods
HNMR/HPLC/IR
IR
Under the condition of PH2.0, A250/A260 =0.70-0.76; A280/A260 =0.36-0.42;Lambda max=262 nm+-1nm.
Assay
95% min
Loss on Drying
15% max
Heavy metals
0.001% max
Arsenic
0.0001% max
Iron
0.01% max
Content
90%min
Package
1kg,3kg,5kg
Storage
Preserve in tight containers,in a cold place.
Application
This product belongs to the nucleotide products, and can be used to improve cell metabolism.
General View of Documents
Links
This product is developed by our RandD company Ulcho Biochemical Ltd(http://www.ulcho.com/), and here is the corresponding linkhttp://www.ulcho.com/uridine-diphosphate-choline-sodium-salt-cas-nna-0002/
Quick Inquiry
Fill out our inquiry form and one of our experts will be in touch with you shortly (Please change screen to horizontal for complete browsing if you are checking Watson on your mobile phone).

andD purpose. It may be toxic or hazardous, and should be handled only by qualified individuals trained in laboratory procedures. The buyer will be responsible to warn and inform any person that may be in contact with the product of the potential risks and hazards, as well as to ensure that purchase, use and disposal of the product comply with local laws and regulations.