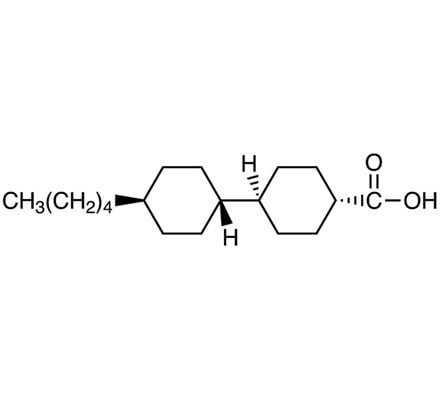 Iden­ti­fi­ca­tion
CAS

Number

65355-33-1
Name
Trans-4′-Pentyl-(1,1′-bicyclohexyl)-4-carboxylic acid
Syn­onyms
(1r,4r)-4′-Pentyl-1,1′-bi(cyclohexyl)-4-carbonsäure [Ger­man] [ACD/IUPAC Name]
(1r,4r)-4′-Pentyl-1,1′-bi(cyclohexyl)-4-carboxylic acid [ACD/IUPAC Name]
[1,1′-Bicyclohexyl]-4-carboxylic acid, 4′-pentyl- [ACD/​Index Name]
65355-33-1
Acide (1r,4r)-4′-pentyl-1,1′-bi(cyclohexyl)-4-carboxylique [French] [ACD/IUPAC Name]
trans-4′-Pentyl-(1,1′-bicyclohexyl)-4-carboxylic acid
(1r,4r)-4′-pentyl-[1,1′-bi(cyclohexane)]-4-carboxylic acid
(TRANS,TRANS)-4′-PENTYL-[1,1′-BICYCLOHEXYL]-4-CARBOXYLIC ACID
161671-34-7
BR-50757
MFCD05864408
MFCD22379991 [MDL number]
trans-4`-Pentyl-(1,1`-bicyclohexyl)-4-carboxylic acid
Trans-4-Pentyl-(1,1-bicyclohexyl)-4-carboxylic acid
SMILES
CCCCCC1CCC(CC1)[[email protected]]2CC[[email protected]@H](CC2)C(=O)O
Std­InChI
InChI=1S/C18H32O2/c1-2-3-4-5-14-6-8-15(9-7-14)16-10-12-17(13-11-16)18(19)20/h14-17H,2-13H2,1H3,(H,19,20)/t14?,15?,16-,17-
Std­InChIKey
VRPAN­QOD­­GRN­WRV-GWE­OL­NPGSA-N
Mol­e­c­u­lar Formula
C18H32O2
Mol­e­c­u­lar Weight
280.45
MDL

Number

MFCD22379991
Prop­er­ties
Appear­ance
White sol­id
Safe­ty Data
Sym­bol
GHS07
Sig­nal Word
Warn­ing
Haz­ard statements
H315-H319-H335
Pre­cau­tion­ary Statements
P305

+

P351

+

P338
Spec­i­fi­ca­tions and Oth­er Infor­ma­tion of Our
Iden­ti­fi­ca­tion Methods
HNMR, HPLC
Puri­ty
99.5% min
Water
0.05%max
Sum Of Homologues
0.05%max
Acid
0.1%max
Volatile Mat­ter
0.3%max
Sin­gle Impurity
0.2%max
Shelf Life
1 year
Stor­age
Store at room tem­per­a­ture, sealed and away from light.
Known Appli­ca­tion
This block con­tains unex­pect­ed or invalid content.
Gen­er­al View of Documents
Links
This prod­uct is devel­oped by our R&D com­pa­ny Warshel Chem­i­cal Lim­it­ed (https://​www​.warshel​.com/).
Quick Inquiry
Fill out our inquiry form and one of our experts will be in touch with you shortly.