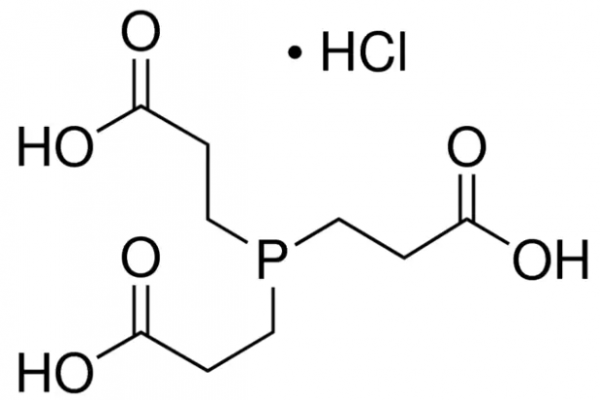 Iden­ti­fi­ca­tion
CAS

Number

51805-45-9
Name
Tris car­boxyethyl phos­phine hydrochlo­ride (TCEP)
Syn­onyms
3,3′,3"-Phosphinetriyltripropanoic acid hydrochlo­ride
3,3′,3"-Phosphinetriyltripropanoic acid hydrochlo­ride (1:1) [ACD/IUPAC Name]
3,3′,3"-Phosphintriyltripropansäurehydrochlorid (1:1) [Ger­man] [ACD/IUPAC Name]
51805-45-9 [RN]
Acide 3,3′,3"-phosphinetriyltripropanoïque, chlorhy­drate (1:1) [French] [ACD/IUPAC Name]
H49AAM893K
MFCD00145469 [MDL num­ber]
Propanoic acid, 3,3′,3"-phosphinidynetris-, hydrochlo­ride (1:1) [ACD/​Index Name]
TCEP (hydrochlo­ride)
TCEP Hydrochlo­ride
Tris(2-carboxyethyl)phosphine Hydrochlo­ride
[51805-45-9]
1189959-10-1 [RN]
3,3′,3″-phosphinetriyltripropionic acid hydrochlo­ride
3,3′,3"-phosphanetriyltripropanoic acid hydrochlo­ride
3,3′,3"-Phosphinetriyltripropanoicacid hydrochlo­ride
3,3′,3"-Phosphinetriyltripropanoicacidhydrochloride
3,3′,3-phosphinetriyltripropionic acid hydrochlor
3,3′,3"-phosphinylidynetris-propanoic acid, mono­hy­drochlo­ride
3-[bis(2-carboxyethyl)phosphanyl]propanoic acid and hydrochlo­ride
3-[Bis(2-carboxyethyl)phosphanyl]propanoic acid hydrochlo­ride
3-[bis(2-carboxyethyl)phosphanyl]propanoic acid;hydrochloride
3-[bis(2-carboxylatoethyl)phosphino]propanoate
http:////www.amadischem.com/proen/574999/
http://​en​.atom​ax​chem​.com/​5​1​8​0​5​-​4​5​-​9​.​h​tml
Propanoic acid, 3,3′,3"-phosphinidynetris-, hydrochlo­ride
TCEP ?? HClTCEPMFCD00145469
TCEP HCl
TCEP, Hydrochlo­ride
TCEP, Hydrochlo­ride – CAS 51805-45-9 – Cal­biochem
TCEP, Hydrochlo­ride, Reagent Grade – CAS 51805-45-9 – Cal­biochem
TCEP, Hydrochlo­ride­miss­ing
TCEP-D12 HYDROCHLO­RIDE
tri(2-carboxyethyl) phos­phine hydrochlo­ride
tris(2-carboxyethyl) phos­phine hydrochlo­ride
tris-(2-carboxyethyl) phos­phine hydrochlo­ride
tris(2-carboxyethyl)phosphane hydrochlo­ride
tris(2-carboxyethyl)phosphine
Tris-(2-carboxyethyl)phosphine HCl
tris(2-carboxyethyl)-phosphine hydrochlo­ride
tris-(2-carboxyethyl)phosphine hydrochlo­ride
Tris(2-carboxy-ethyl)phosphine hydrochlo­ride
Tris(2-carboxyethyl)phosphine hydrochlo­ride, 0.5M aque­ous
Tris(2-carboxyethyl)phosphine hydrochlo­ride, 0.5M aque­ous solu­tion
Tris(2-carboxyethyl)phosphine, HCl
TRIS(2-CAR­BOXYETHYL)PHOS­PHINE, HYDROCHLO­RIDE
Tris(carboxyethyl)phosphine HCl
UNII :H49AAM893K
UNII-H49AAM893K
SMILES
C(CP(CCC(=O)O)CCC(=O)O)C(=O)O.Cl
Std­InChI
InChI=1S/C9H15O6P.ClH/c10-7(11)1-4-16(5-2-8(12)13)6-3-9(14)15;/h1-6H2,(H,10,11)(H,12,13)(H,14,15);1H
Std­InChIKey
PBVA­JR­FEEOIAGW-UHF­F­­FAOYSA-N
Mol­e­c­u­lar Formula
C9H15O6P · HCl
Mol­e­c­u­lar Weight
286.65
Beil­stein Reg­istry Number
3724376
MDL

Number

MFCD00145469
Prop­er­ties
Appear­ance
White crys­tal
Melt­ing Point
176-186°C
Safe­ty Data
Sig­nal Word
Dan­ger
Per­son­al Pro­tec­tive Equipment
dust mask type N95 (US), Eye­shields, Gloves
RIDADR
NONH for all modes of transport
WGK

Germany

1
Spec­i­fi­ca­tions and Oth­er Infor­ma­tion of Our Tris car­boxyethyl phos­phine hydrochlo­ride (
TCEP

)

CAS

51805-45-9
Iden­ti­fi­ca­tion Methods
Titra­tion
Puri­ty
98% min
Shelf Life
1 year
Stor­age
Under room tem­per­a­ture away from light
Known Appli­ca­tion
Uses Water-sol­u­ble reagent for the selec­tive reduc­tion of disul­fides. More sta­ble than DTT in mass spec­trom­e­try appli­ca­tions ; this water-sol­u­ble lig­and enables sim­ple removal of ruthe­ni­um-based metathe­sis cat­a­lysts by aque­ous wash­ing of the crude reac­tion product.
Links
This prod­uct is devel­oped by our R&D com­pa­ny Warshel Chem­i­cal Ltd (http://​www​.warshel​.com/).
Quick Inquiry
Fill out our inquiry form and one of our experts will be in touch with you shortly.