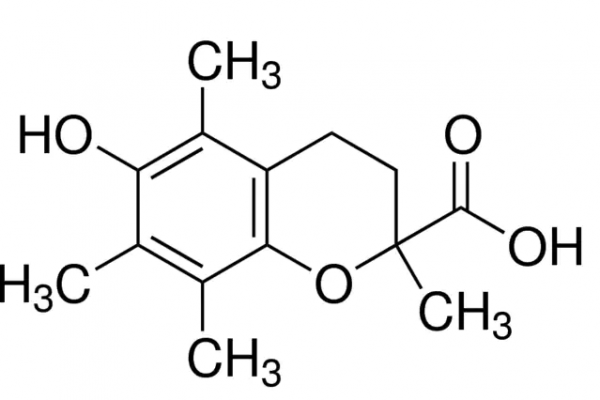 Iden­ti­fi­ca­tion
CAS

Number

53188-07-1
Name
Trolox
Syn­onyms
(±)-6-Hydroxy-2,5,7,8-tetramethylchromane-2-carboxylic acid
258-422-8 [EINECS]
2H-1-Ben­­zopy­­ran-2-car­boxylic acid, 3,4-dihydro-6-hydroxy-2,5,7,8-tetramethyl- [ACD/​Index Name]
53188-07-1 [RN]
6-Hydroxy-2,5,7,8-tetramethyl-2-chromancarbonsäure [Ger­man] [ACD/IUPAC Name]
6-Hydroxy-2,5,7,8-tetramethyl-2-chromanecarboxylic acid [ACD/IUPAC Name]
6-hydroxy-2,5,7,8-tetramethyl-3,4-dihydro-2H-1-benzopyran-2-carboxylic acid
6-hydroxy-2,5,7,8-tetramethyl-3,4-dihydro-2H-chromene-2-carboxylic acid
6-Hydroxy-2,5,7,8-tetramethyl-chroman-; 2-car­boxylic acid
6-Hydroxy-2,5,7,8-tetramethylchroman-2-carboxylic Acid
6-HYDROXY-2,5,7,8-TETRAM­ETHYL-CHRO­MAN-2-CAR­BOXYLIC ACID, (-)-
6-HYDROXY-2,5,7,8-TETRAM­ETHYL-CHRO­MAN-2-CAR­BOXYLIC ACID, (+)-
6-Hydroxy-2,5,7,8-tetramethylchromane-2-carboxylic acid
Acide 6-hydroxy-2,5,7,8-tétraméthyl-2-chromanecarboxylique [French] [ACD/IUPAC Name]
DJ2273000
S18UL9710X
Trolox [Wiki]
UNII :S18UL9710X
(±)-6-hydroxy-2,5,7,8-tetramethylchromane-2-carboxylic acid
(±)-6-hydroxy-2,5,7,8-tetramethylchromane-2-carboxylicacid
3,4-dihydro-6-hydroxy-2,5,7,8-tetramethyl- 2H-1-ben­­zopy­­ran-2-car­boxylic acid
3,4-Dihydro-6-hydroxy-2,5,7,8-tetramethyl-2H-1-benzopyran-2-carboxylic acid
53174-06-4 [RN]
6-Hydroxy-2,5,7,8-tetramethyl-2-chromancarboxylic acid
6-hydroxy-2,5,7,8-tetramethyl-3,4-dihydrochromene-2-carboxylic acid
6-Hydroxy-2,5,7,8-tetramethyl-chroman-2-carboxylic acid
6-hydroxy-2,5,7,8-tetramethyl-chromane-2-carboxylic acid
C010643
MFCD00180756 [MDL num­ber]
Trolox – CAS 53188-07-1 – Cal­biochem
Trolox C
Trolox&aster­isk
Trolox®
Trolox(TM)
Trolox ; Trolox C
SMILES
Cc1c(c2c(c(c1O)C)CCC(O2)(C)C(=O)O)C
Std­InChI
InChI=1S/C14H18O4/c1-7-8(2)12-10(9(3)11(7)15)5-6-14(4,18-12)13(16)17/h15H,5-6H2,1-4H3,(H,16,17)
Std­InChIKey
GLEVLJD­D­WX­EY­­CO-UHF­F­­FAOYSA-N
Mol­e­c­u­lar Formula
C14H18O4
Mol­e­c­u­lar Weight
250.29
EINECS
258-422-8
Beil­stein Reg­istry Number
1384051
MDL

Number

MFCD00006846
Prop­er­ties
Appear­ance
White to beige powder
Safe­ty Data
Per­son­al Pro­tec­tive Equipment
dust mask type N95 (US), Eye­shields, Gloves
WGK

Germany

2
Spec­i­fi­ca­tions and Oth­er Infor­ma­tion of Our Trolox
CAS

53188-07-1
Iden­ti­fi­ca­tion Methods
HNMR, HPLC
Puri­ty
≥98%
Shelf Life
2 years
Stor­age
Under room tem­per­a­ture away from light
Known Appli­ca­tion
It is often used as an antiox­i­dant with free rad­i­cal scav­eng­ing and antiox­i­dant activity.
Gen­er­al View of Documents
Links
This prod­uct is devel­oped by our R&D com­pa­ny Wat­son­noke Sci­en­tif­ic Ltd (http://​www​.wat​son​noke​.com/).
Quick Inquiry
Fill out our inquiry form and one of our experts will be in touch with you shortly.