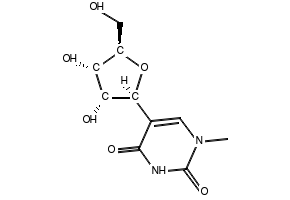 Iden­ti­fi­ca­tion
CAS

Number

13860-38-3
Name
1-methyl­­pseudouri­­dine
Syn­onyms
(1S)-1,4-Anhydro-1-(1-methyl-2,4-dioxo-1,2,3,4-tetrahydro-5-pyrimidinyl)-D-ribitol [ACD/IUPAC Name]
(1S)-1,4-Anhydro-1-(1-methyl-2,4-dioxo-1,2,3,4-tetrahydro-5-pyrimidinyl)-D-ribitol [Ger­man] [ACD/IUPAC Name]
(1S)-1,4-Anhydro-1-(1-méthyl-2,4-dioxo-1,2,3,4-tétrahydro-5-pyrimidinyl)-D-ribitol [French] [ACD/IUPAC Name]
13860-38-3 [RN]
1-Methyl­­pseudouri­­dine
D-Ribitol, 1,4-anhydro-1-C-(1,2,3,4-tetrahydro-1-methyl-2,4-dioxo-5-pyrimidinyl)-, (1S)- [ACD/​Index Name]
N1-Methyl­­pseudouri­­dine
Uracil, 1-methyl-5-β-D-ribo­­fu­ra­no­syl-
(1S)-1,4-anhydro-1-(1-methyl-2,4-dioxo-1,2,3,4-tetrahydropyrimidin-5-yl)-D-ribitol
1-methyl-pseudouri­­dine
1-n-me-pseudouri­­dine
1-N-Methyl-pseudouri­­dine
2,4(1H,3H)-Pyrim­idine­dione, 1-methyl-5-β-D-ribo­­fu­ra­no­syl-
2,4(1H,3H)-Pyrimidinedione,1-methyl-5-b-D-ribofuranosyl-
5-((2S,3R,4S,5R)-3,4-dihydroxy-5-(hydroxymethyl)tetrahydrofuran-2-yl)-1-methylpyrimidine-2,4(1H,3H)-dione
https://​www​.ebi​.ac​.uk/​c​h​e​b​i​/​s​e​a​r​c​h​I​d​.​d​o​?​c​h​e​b​i​I​d​=​C​H​E​B​I​:​1​9​068
m(1)f
MFCD10687017
SMILES
Cn1cc(c(=O)[nH]c1=O)[C@H]2[C@@H]([C@@H]([C@H](O2)CO)O)O
Std­InChI
InChI=1S/C10H14N2O6/c1-12-2-4(9(16)11-10(12)17)8-7(15)6(14)5(3-13)18-8/h2,5-8,13-15H,3H2,1H3,(H,11,16,17)/t5-,6-,7-,8+/m1/s1
Std­InChIKey
UVBYMVOUBXYS­FV-XUTV­­FYLZSA-N
Mol­e­c­u­lar Formula
C10H14N2O6
Mol­e­c­u­lar Weight
258.23
MDL

Number

MFCD10687017
Prop­er­ties
Appear­ance
White pow­der
Safe­ty Data
WGK

Germany

3
Spec­i­fi­ca­tions and Oth­er Infor­ma­tion of Our 1-methyl­­pseudouri­­dine
CAS

13860-38-3
Iden­ti­fi­ca­tion Methods
HNMR, HPLC
Puri­ty
98% min
Water
≤1.0%
Sol­vent residual
≤0.23%
Shelf Life
2 years
Stor­age
Strore at 2-8℃ for long time.
Known Appli­ca­tion
Com­mon­ly used in the syn­the­sis of car­bo­hy­drate inter­me­di­ates and nucle­o­side intermediates.
Links
This prod­uct is devel­oped by our R&D com­pa­ny Ulcho Bio­chem­i­cal Ltd (http://​www​.ulcho​.com/).
Quick Inquiry
Fill out our inquiry form and one of our experts will be in touch with you shortly.