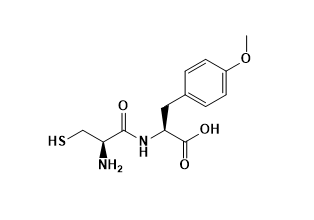 Cys-Tyr(Me) CAS PNA-2728
Identification
CAS Number
PNA-2728
Name
Cys-Tyr(Me)
Safety Data
Personal Protective Equipment
Eyeshields, Gloves, type N95 (US), type P1 (EN143) respirator filter
RIDADR
NONH for all modes of transport
WGK Germany
3
Specifications and Other Information of Our Cys-Tyr(Me) CAS PNA-2728
Purity
98%min
Production capacity
kilogram Scale
Storage
Sealed, keep in a cool, dry place and away from light.
Known Application
Often used as Atosiban Mpa-D-Tyr(Et)-lle-Thr-Asn-Cys-Pro-Orn-Gly-NH2.
Links
This product is developed by our R&D company Apnoke Scientific Ltd(
http://www.apnoke.com/
), and here is the corresponding link
http://www.apnoke.com/cys-tyr(me)-cas-pna-2728/
Quick Inquiry
Fill out our inquiry form and one of our experts will be in touch with you shortly (Please change screen to horizontal for complete browsing if you are checking Watson on your mobile phone).