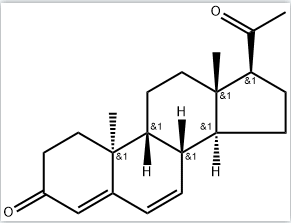 Identification
CAS Number
152-62-5
Name
Dydrogesterone
Synonyms
(9b,10a)-Pregna-4,6-diene-3,20-dione
(9β,10α)-Pregna-4,6-dien-3,20-dion [German] [ACD/IUPAC Name]
(9β,10α)-Pregna-4,6-diene-3,20-dione [ACD/IUPAC Name]
(9β,10α)-Prégna-4,6-diène-3,20-dione [French] [ACD/IUPAC Name]
10a-Isopregnenone
152-62-5 [RN]
205-806-8 [EINECS]
6-Dehydro-9b,10a-progesterone
6-Dehydro-9β,10α-progesterone
6-Dehydroretroprogesterone
970
9b,10a-Pregna-4,6-diene-3,20-dione
9β,10α-Pregna-4,6-diene-3,20-dione (8CI)
D6-Retroprogesterone
didrogesterona [Spanish] [INN]
Dydrogesterone [BAN] [INN] [JAN] [USAN] [Wiki]
dydrogestérone [French] [INN]
dydrogesteronum [Latin] [INN]
Pregna-4,6-diene-3,20-dione, (9β,10α)- [ACD/Index Name]
Pregna-4,6-diene-3,20-dione, (9β,10α)-
δ6-Retroprogesterone
дидрогестерон [Russian] [INN]
ديدروجيستيرون [Arabic] [INN]
地屈孕酮 [Chinese] [INN]
(1R,2S,10S,11S,14S,15S)-14-acetyl-2,15-dimethyltetracyclo[8.7.0.02,7.011,15]heptadeca-6,8-dien-5-one
(8S,9R,10S,13S,14S,17S)-17-acetyl-10,13-dimethyl-1,2,8,9,10,11,12,13,14,15,16,17-dodecahydro-3H-cyclopenta[a]phenanthren-3-one
(8S,9R,10S,13S,14S,17S)-17-acetyl-10,13-dimethyl-1,2,8,9,11,12,14,15,16,17-decahydrocyclopenta[a]phenanthren-3-one
(8S,9R,10S,13S,14S,17S)-17-ethanoyl-10,13-dimethyl-1,2,8,9,11,12,14,15,16,17-decahydrocyclopenta[a]phenanthren-3-one
(8S,9R,13S,14S,17S)-17-acetyl-10,13-dimethyl-1,2,8,9,11,12,14,15,16,17-decahydrocyclopenta[a]phenanthren-3-one
(9??,10??)-pregna-4,6-diene-3,20-dione
(9??,10??)-pregna-4,6-diene-3,20-dione; 10α-Isopregnenone; 9??,10??-pregna-4,6-diene-3,20-dione; Didrogesterone; Dydrogesterona; Dydrogest??rone ; Dydrogesterone; Dydrogesteronum; Gestatron; Hydrogesterone; Hydrogestrone; Isopregnenone
(9β,10α)-pregna-4,6-diene-3,20-dione
(9-β,10-α)-Pregna-4,6-diene-3,20-dione
(9β,10α)-pregna-4,6-diene-3,20-dione; 10α-Isopregnenone; 9β,10α-pregna-4,6-diene-3,20-dione; Didrogesterone; Dydrogesterona; Dydrogestérone ; Dydrogesterone; Dydrogesteronum; Gestatron; Hydrogesterone; Hydrogestrone; Isopregnenone
[152-62-5]
10α-Isopregnenone
3121425 [Beilstein]
6-Dehydro-9β,10α-progesterone
6-Dehydro-retro-progesterone
9??,10??-pregna-4,6-diene-3,20-dione
9005-49-6 [RN]
9β,10α-Pregna-4,6-diene-3, 20-dione
9β,10α-pregna-4,6-diene-3,20-dione
9β,10α-pregna-4,6-diene-3,20-dione
9β,10α-Pregna-4,6-diene-3,20-dione
9-β,10α-Pregna-4,6-diene-3,20-dione
9-β,10α-Pregna-4,6-diene-3,20-dione
9-β,10-α-Pregna-4,6-diene-3,20-dione
BPBio1_000839
BSPBio_000761
Dabroston
Dabroston (Trade name)
Dabroston; Dufaston; Duphaston; Terolut
didrogesterona
didrogesterona; dydrogesterone; dydrogesteronum
Didrogesterone
Didrogesterone [DCIT]
Diphaston
Dufaston
Dufaston (Trade name)
Duphaston [Trade name]
Duphaston (TN)
Duphaston (Trade name)
Duphaston®
Duvaron
Dydrogest??rone
Dydrogestérone
Dydrogesterona [Spanish] [INN]
Dydrogesterona
Dydrogesterona [INN-Spanish]
Dydrogestérone
Dydrogesterone (JP15/USP) [USP]
Dydrogesterone|(9β,10α)-pregna-4,6-diene-3,20-dione
Dydrogesterone|(9β,10α)-pregna-4,6-diene-3,20-dione
Dydrogesteronum
Dydrogesteronum [INN-Latin]
EINECS 205-806-8
Gestatron
Gynorest [Trade name]
Gynorest (TN)
https://www.ebi.ac.uk/chebi/searchId.do?chebiId=CHEBI:31527
Hydrogesterone
Hydrogestrone
Isopregnenone
MFCD00867864
Pregna-4,6-diene-3,20-dione, (9b,10a)-
Pregna-4,6-diene-3,20-dione, (9-β,10-α)- (9CI)
Prestwick2_000671
Prestwick3_000671
Prodel
Retro-6-dehydroprogesterone
Retrone
Retroprogesterone, 6-dehydro-
Terolut
trans-dydrogesterone
δ(6)-Retroprogesterone
δ(sup 6)-Retroprogesterone
дидрогестерон
ديدروجيستيرون
地屈孕酮
SMILES
CC(=O)[[email protected]]1CC[[email protected]@H]2[[email protected]@]1(CC[[email protected]@H]3[[email protected]]2C=CC4=CC(=O)CC[[email protected]@]34C)C
StdInChI
InChI=1S/C21H28O2/c1-13(22)17-6-7-18-16-5-4-14-12-15(23)8-10-20(14,2)19(16)9-11-21(17,18)3/h4-5,12,16-19H,6-11H2,1-3H3/t16-,17+,18-,19+,20+,21+/m0/s1
StdInChIKey
JGMOKGBVKVMRFX-HQZYFCCVSA-N
Molecular Formula
C21H28O2
Molecular Weight
312.446
Properties
Appearance
White or almost white crγstalline powder
Safety Data
RIDADR
NONH for all modes of transport
WGK Germany
3
Specifications and Other Information of Our Dydrogesterone CAS 152-62-5
Identification Methods
IR, HPLC
Assay
98%~102%
Specific Optical Rotation
-469°~-485°
Loss on Drying
≤0.5%
Sulfated ash
≤0.1%
Impurity A
≤0.3%
Impurity B
≤0.15%
Impurity C
≤0.3%
Any individual unspecified impurity
≤0.1%
Total impurities
≤0.5%
Shelf Life
2 years
Storage
Preserve in well-closed containers.
Known Application
It is an oral effective progesterone that directly acts on the uterus to produce a complete secretory endometrium in the uterus pretreated by estrogen.
Links
This product is developed by our R&D company Caming Pharmaceutical Ltd (https://www.caming.com/).
Quick Inquiry
Fill out our inquiry form and one of our experts will be in touch with you shortly.