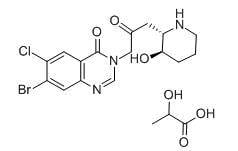 Halofuginon Lactate CAS 82186-71-8
Identification
Properties
Safety Data
Specifications and Other Information
Links
Identification
CAS Number
82186-71-8
Name
Halofuginon Lactate
Synonyms
2-Hydroxypropanoic acid – 7-bromo-6-chloro-3-{3-[(2S,3R)-3-hydroxy-2-piperidinyl]-2-oxopropyl}-4(3H)-quinazolinone (1:1) [ACD/IUPAC Name]
2-Hydroxypropansäure –7-brom-6-chlor-3-{3-[(2S,3R)-3-hydroxy-2-piperidinyl]-2-oxopropyl}-4(3H)-chinazolinon (1:1) [German] [ACD/IUPAC Name]
Acide 2-hydroxypropanoïque – 7-bromo-6-chloro-3-{3-[(2S,3R)-3-hydroxy-2-pipéridinyl]-2-oxopropyl}-4(3H)-quinazolinone (1:1) [French] [ACD/IUPAC Name]
Propanoic acid, 2-hydroxy-, compd. with 7-bromo-6-chloro-3-[3-[(2S,3R)-3-hydroxy-2-piperidinyl]-2-oxopropyl]-4(3H)-quinazolinone (1:1) [ACD/Index Name]
2-Hydroxypropanoic acid [ACD/IUPAC Name]
7-bromo-6-chloro-3-[3-[(2S,3R)-3-hydroxy-2-piperidyl]-2-oxo-propyl]quinazolin-4-one
7-bromo-6-chloro-3-[3-[(2S,3R)-3-hydroxy-2-piperidyl]-2-oxo-propyl]quinazolin-4-one;2-hydroxypropanoic acid
7-bromo-6-chloro-3-[3-[(2S,3R)-3-hydroxypiperidin-2-yl]-2-oxopropyl]quinazolin-4-one
7-bromo-6-chloro-3-[3-[(2S,3R)-3-hydroxypiperidin-2-yl]-2-oxopropyl]quinazolin-4-one and 2-hydroxypropanoic acid
82186-71-8 [RN]
Halofuginone lactate
Halofuginone lactate 100 ?g/mL in Acetonitrile
Halofuginone lactate 100 µg/mL in Acetonitrile – short expiry, for immediate use only
Molecular Structure
SMILES
CC(C(=O)O)O.c1c2c(cc(c1Cl)Br)ncn(c2=O)CC(=O)C[[email protected]]3[[email protected]@H](CCCN3)O
StdInChI
InChI=1S/C16H17BrClN3O3.C3H6O3/c17-11-6-13-10(5-12(11)18)16(24)21(8-20-13)7-9(22)4-14-15(23)2-1-3-19-14;1-2(4)3(5)6/h5-6,8,14-15,19,23H,1-4,7H2;2,4H,1H3,(H,5,6)/t14-,15+;/m0./s1
StdInChIKey
GATQERNJKZPJNX-LDXVYITESA-N
Molecular Formula
C19H23BrClN3O6
Molecular Weight
504.76
Properties
Appearance
Off-white to white solid
Safety Data
WGK Germany
3
Specifications and Other Information of Our Halofuginon Lactate CAS 82186-71-8
Standard
Enterprise standard
Identification Methods
HPLC/HNMR
Purity
98%min
Package
According to customer requirements to packaging
Storage
Under the room temperature and away from light
Application
Halofuginone is a coccidiostat used in veterinary medicine. It is a synthetic halogenated derivative of febrifugine, a natural quinazolinone alkaloid which can be found in the Chinese herb Dichroa febrifuga (Chang Shan).Collgard Biopharmaceuticals is developing halofuginone for the treatment of scleroderma and it has received orphan drug designation from the U.S. Food and Drug Administration.
Halofuginone inhibits the development of T helper 17 cells, immune cells that play an important role in autoimmune disease, but it does not affect other kinds of T cells which are involved in normal immune function.Halofuginone therefore has potential for the treatment of autoimmune disorders.
Halofuginone is also an inhibitor of collagen type I gene expression and as a consequence it may inhibit tumor cell growth.Halofuginone exerts its effects by acting as a high affinity inhibitor of the enzyme Glutamyl-Prolyl tRNA synthetase. Inhibition of prolyl tRNA charging leads to the accumulation of uncharged prolyl tRNAs, which serve as a signal to initiate the amino acid starvation response, which in turn exerts anti-inflammatory and anti-fibrotic effects.
Links
This product is developed by our RandD company Caming Pharmaceutical Ltd(http://www.caming.com/), and here is the corresponding linkhttp://www.caming.com/halofuginon-lactate-cas-82186-71-8/
Quick Inquiry
Fill out our inquiry form and one of our experts will be in touch with you shortly (Please change screen to horizontal for complete browsing if you are checking Watson on your mobile phone).

andD purpose. It may be toxic or hazardous, and should be handled only by qualified individuals trained in laboratory procedures. The buyer will be responsible to warn and inform any person that may be in contact with the product of the potential risks and hazards, as well as to ensure that purchase, use and disposal of the product comply with local laws and regulations.