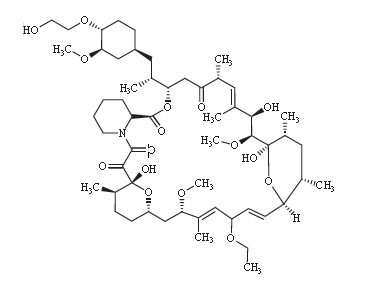 Iden­ti­fi­ca­tion
CAS

Number

159351-69-64
Name
Everolimus EP Impu­ri­ty F
Mol­e­c­u­lar Formula
C55H89NO16
Mol­e­c­u­lar Weight
1020.31
Prop­er­ties
Appear­ance
Off White Solid
Safe­ty Data
RIDADR
NONH for all modes of transport
WGK

Germany

3
Spec­i­fi­ca­tions and Oth­er Infor­ma­tion of Our Everolimus
EP

Impu­ri­ty F

CAS

159351-69-66
Iden­ti­fi­ca­tion Methods
HNMR, MS
Puri­ty
95% min
Shelf Life
3 years
Stor­age
Store at 2-8℃, sealed and away from light.
Known Appli­ca­tion
Used as the impu­ri­ties of Everolimus.
Gen­er­al View of Documents
Everolimus
EP

Impu­ri­ty F

CAS

159351-69-66

TDS
Links
This prod­uct is devel­oped by our R&D com­pa­ny Cam­ing Phar­ma­ceu­ti­cal Ltd (https://​www​.cam​ing​.com/).
Quick Inquiry
Fill out our inquiry form and one of our experts will be in touch with you shortly.