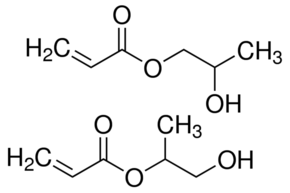 HPA CAS 25584-83-2
Identification
CAS Number
25584-83-2
Name
HPA
Synonyms
247-118-0 [EINECS]
25584-83-2 [RN]
2-Hydroxypropyl acrylate [ACD/IUPAC Name]
2-hydroxypropyl prop-2-enoate
2-Hydroxypropyl-acrylat [German] [ACD/IUPAC Name]
2-Propenoic acid, 2-hydroxypropyl ester [ACD/Index Name]
2-Propenoic acid, 2-hydroxypropyl ester (9CI)
2-Propenoic acid, monoester with 1,2-propanediol
Acrylate de 2-hydroxypropyle [French] [ACD/IUPAC Name]
Acrylic acid 2-hydroxypropyl ester
MFCD00021900 [MDL number]
PROPYLENE GLYCOL MONOACRYLATE
[999-61-1]
1,2-Propanediol, 1-acrylate
1,2-Propanediol-1-acrylate
2-HYDROXY PROPYL ACRYLATE
2-Hydroxypropyl
2-HYDROXYPROPYL ACRYLATE|2-HYDROXYPROPYL PROP-2-ENOATE
2-HYDROXYPROPYLACRYLATE
2-hydroxyproyl acrylate
Acrylic acid, 2-hydroxypropyl ester
Acrylic acid, monoester with propane-1,2-diol
EINECS 213-663-8
GWZMWHWAWHPNHN-UHFFFAOYSA-N
HPA
HYDROXYPROPYL ACRYLATE
Hydroxypropyl acrylate [Mixture of (1) and (2)]
Hydroxypropyl acrylate, mixture of isomers
β-Hydroxypropyl acrylate
β-Hydroxypropyl acrylate
β-Hydroxypropylacrylate
SMILES
CC(COC(=O)C=C)O
StdInChI
InChI=1S/C6H10O3/c1-3-6(8)9-4-5(2)7/h3,5,7H,1,4H2,2H3
StdInChIKey
GWZMWHWAWHPNHN-UHFFFAOYSA-N
Molecular Formula
C6H10O3
Molecular Weight
130.14
EINECS
247-118-0
MDL Number
MFCD04113589
Properties
Appearance
Colorless transparent flowable liquid
Boiling Point
77 °C/5 mmHg(lit.)
Safety Data
Symbol
GHS05, GHS06
Signal Word
Danger
Hazard statements
H301 + H311 + H331-H314-H317
Precautionary Statements
P261-P280-P301 + P310 + P330-P303 + P361 + P353-P304 + P340 + P310-P305 + P351 + P338
Personal Protective Equipment
Faceshields, full-face respirator (US), Gloves, Goggles, multi-purpose combination respirator cartridge (US), type ABEK (EN14387) respirator filter
RIDADR
UN 1760 8 / PGIII
WGK Germany
1
Specifications and Other Information of Our HPA CAS 25584-83-2
Identification Methods
GC
Purity
96% min;97%min
Water
0.3%;0.2%
Color
30;20
Acidity
0.2%;0.3%
Inhibitor(MEHQ)
200+/-20ppm;The content of MEHQ can be added according to clients's request
Shelf Life
2 years
Storage
Under room temperature away from light
Known Application
1.Used for synthetic medical polymer materials, thermosetting coatings and adhesives.
2.Mainly used for modification of resins and coatings. Copolymerizes with other monomers to get acrylic resins including the active hydroxyl group,to perform Esterification reaction and crosslinking reaction, synthetic insoluble resin and improved adhesion, can be used as fiber treating agent. Disposition of coating industry and epoxy resin, diisocyanate and melamino-formaldehyde resin for the production of two component coatings. Added into premium car paint , to keep specular gloss for a long time .
3.Is a sort of function monomers, used in preparation of modifier of thermosetting acrylic coatings and Styrene butadiene rubber emulsion. Used in Acrylic modified polyurethane resin, adhesive for water-soluble electroplat-ing resin,Fiber treating agent, paper coating, photosensitive coating.
Links
This product is developed by our R&D company Warshel Chemical Ltd(
Warshel Chemical Ltd
), and here is the corresponding link
http://www.warshel.com/hpa-cas-25584-83-2/
Quick Inquiry
Fill out our inquiry form and one of our experts will be in touch with you shortly (Please change screen to horizontal for complete browsing if you are checking Watson on your mobile phone).