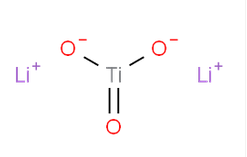 LITHIUM TITANATE (LTO) CAS 12031-82-2
Identification
Properties
Safety Data
Specifications & Other Information
Links
Identification
CAS Number
12031-82-2
Name
LITHIUM TITANATE (LTO)
Synonyms
Dilithium dioxido(oxo)titanium [ACD/IUPAC Name]
Dilithiumdioxido(oxo)titan [German] [ACD/IUPAC Name]
Oxo(dioxydo)titane de dilithium [French] [ACD/IUPAC Name]
Titanium, diolatooxo-, lithium salt (1:2) [ACD/Index Name]
[12031-82-2]
12031-82-2 [RN]
lithium titanate
LITHIUMTITANATE
MFCD00016181
SMILES
[Li+].[Li+].[O-][Ti](=O)[O-]
StdInChI
InChI=1S/2Li.3O.Ti/q2*+1;;2*-1;
StdInChIKey
GLUCAHCCJMJHGV-UHFFFAOYSA-N
Molecular Formula
Li2O3Ti
Molecular Weight
109.747
EINECS
234-759-6
MDL Number
MFCD00016181
Properties
Appearance
Black powder
Safety Data
Personal Protective Equipment
Eyeshields, Gloves, type N95 (US), type P1 (EN143) respirator filter
RIDADR
NONH for all modes of transport
WGK Germany
3
Specifications and Other Information of Our LITHIUM TITANATE (LTO) CAS 12031-82-2
Standard
Enterprise standard
| | | | | | |
| --- | --- | --- | --- | --- | --- |
| Item | D50(µm) | SSA(m²/g) | Tap(g/cm3) | Capacity(mAh/g) | Efficiency(%) |
| LTO-1 | 0.7-1.6 | ≤16.0 | ≥0.65 | ≥150 | ≥88 |
| LTO-2 | 0.8-1.8 | ≤6.0 | ≥0.65 | ≥150 | ≥90 |
| LTO-S | 4.0-12.0 | ≤8.0 | ≥0.70 | ≥155 | ≥91 |
Package
According to customer requirements to packaging
Storage
Under the room temperature and away from light
Advantage
1.High safety performance
2.Ultra-long cycle life
3.High rate performance
General View of Documents
Application
LTO is characterized with good safety and long cycling performance, it is ideal materials applied in LIB for EV and ESS application. Suitable for power lithium batteries, energy storage lithium batteries, high rate charge and discharge lithium batteries, super capacitors.
Links
This product is developed by our R&D company Warshel Chemical Ltd(http://www.warshel.com/), and here is the corresponding linkhttp://www.warshel.com/lithium-titanate-lto-cas-12031-82-2/
Quick Inquiry
Fill out our inquiry form and one of our experts will be in touch with you shortly.