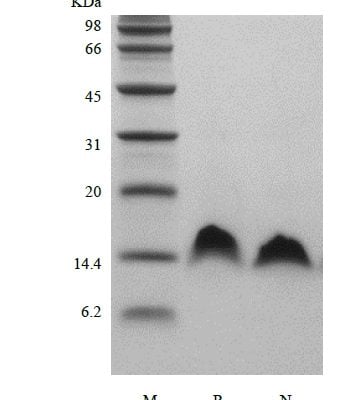 Offi­cial Full Name
Recom­bi­nant Human Beta­cel­lulin (rHu­Be­ta­cel­lulin)
CAS

Num­ber (Or Wat­son Num­ber for Non-CAS Products)

107-12-1816
Syn­onyms
Squence
Amino Acid Sequence
DGN­STR­SPET
NGLL­CGDPEE
NCAATT­TQSK
RKGHF­S­R­CPK
QYKHY­CIK­GR
CRFV­VAE­QTP
SCVCD­E­GYIG
ARCERVDL­FY
Syn­onyms
Acces­sion
P35070
Gene
ID
685
Sum­ma­ry
Beta­cel­lulin (
BTC
) is a mem­ber of the
EGF
fam­i­ly of cytokines that also includes
EGF
, TGF-a, Amphireg­ulin,
HB-EGF
, Epireg­ulin, Tomoreg­ulin and the Neureg­ulins. It is expressed in most tis­sues includ­ing kid­ney, uterus, liv­er and pan­creas.
BTC
also presents in body flu­ids, includ­ing serum, milk, and colostrum. At the amino acid sequence lev­el, human mature
BTC
pro­tein exhibits 80 % iden­ti­ty with mouse
BTC
pro­tein. The pro­tein binds to
EGFR
,
ERBB4
and oth­er
EGF
recep­tor fam­i­ly mem­bers and acts as a potent mito­gen for reti­nal pig­ment epithe­lial cells and vas­cu­lar smooth mus­cle cells.
Source
Escherichia coli.
Mol­e­c­u­lar Weight
Recom­bi­nant human Beta­cel­lulin is a 9.0 kDa monomer­ic pro­tein, con­tain­ing 80 amino residues, which com­pris­es the mature
EGF
homol­o­gous por­tion of the Beta­cel­lulin pro­tein.
Bio­log­i­cal Activity
Ful­ly bio­log­i­cal­ly active when com­pared to stan­dard. The
ED50
as deter­mined by a cell pro­lif­er­a­tion assay using murine Balb/​c
3T3
cells is less than 0.05 ng/​ml, cor­re­spond­ing to a spe­cif­ic activ­i­ty of > 2.0 × 107
IU
/​mg.
Appear­ance
Ster­ile fil­tered white lyophilized (freeze-dried) pow­der.
For­mu­la­tion
Lyophilized from a 0.2 um fil­tered con­cen­trat­ed solu­tion in
PBS
, pH 7.4.
Endo­tox­in
Less than 1
EU
/​ug of rHuBTC as deter­mined by
LAL
method.
Recon­sti­tu­tion
We rec­om­mend that this vial be briefly cen­trifuged pri­or to open­ing to bring the con­tents to the bot­tom. Recon­sti­tute in ster­ile dis­tilled water or aque­ous buffer con­tain­ing 0.1 %
BSA
to a con­cen­tra­tion of 0.1-1.0 mg/​mL. Stock solu­tions should be appor­tioned into work­ing aliquots and stored at ≤ -20 °C. Fur­ther dilu­tions should be made in appro­pri­ate buffered solu­tions.
Sta­bil­i­ty and Storage
Use a man­u­al defrost freez­er and avoid repeat­ed freeze-thaw cycles.- 12 months from date of receipt, -20 to -70 °C as sup­plied.- 1 month, 2 to 8 °C under ster­ile con­di­tions after recon­sti­tu­tion.- 3 months, -20 to -70 °C under ster­ile con­di­tions after recon­sti­tu­tion.
Ref­er­ences
Puri­ty
> 98 % by
SDS-PAGE
and
HPLC
analy­ses.
SDS-PAGE
Pack Size
5ug/​100ug/​500ug
Safe­ty Data Sheet (
SDS

) Down­load Click to download
Tech­ni­cal Data Sheet (
TDS

) Down­load Click to download
Links
This prod­uct is brand­ed by ChemWhat and sold through our web­site and here is the cor­re­spond­ing link
Recom­bi­nant Human Beta­cel­lulin (rHu­Be­ta­cel­lulin) on ChemWhat
Quick Inquiry
Fill out our inquiry form and one of our experts will be in touch with you shortly.