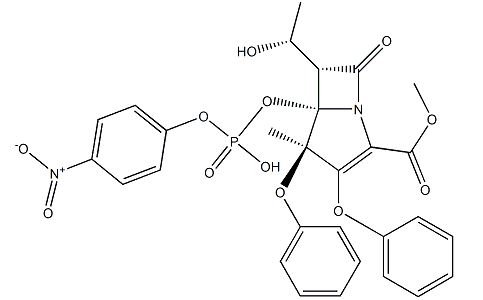 Identification
CAS Number
39450-01-6
EC Number
3.4.21.14
Name
Recombinant Proteinase K
Synonyms
1H-Benzimidazole-5-carboxamide, 1-(2-methoxyethyl)-N-[1-methyl-2-(1-methylethyl)-1H-benzimidazol-5-yl]- [ACD/Index Name]
N-(2-Isopropyl-1-methyl-1H-benzimidazol-5-yl)-1-(2-methoxyethyl)-1H-benzimidazol-5-carboxamid [German] [ACD/IUPAC Name]
N-(2-Isopropyl-1-methyl-1H-benzimidazol-5-yl)-1-(2-methoxyethyl)-1H-benzimidazole-5-carboxamide [ACD/IUPAC Name]
N-(2-Isopropyl-1-méthyl-1H-benzimidazol-5-yl)-1-(2-méthoxyéthyl)-1H-benzimidazole-5-carboxamide [French] [ACD/IUPAC Name]
1-(2-methoxyethyl)-N-(1-methyl-2-propan-2-ylbenzimidazol-5-yl)benzimidazole-5-carboxamide
1214393-36-8 [RN]
39450-01-6 [RN]
proteinase k, lyophilized powder, biotechgrade
SMILES
CC(C1C(=O)N2C1(C(C(=C2C(=O)OCC3=CC=C(C=C3)[N+](=O)[O-])OC4=CC=CC=C4)(C)OC5=CC=CC=C5)OP(=O)(O)O)O
InChI
InChI=1S/C29H27N2O12P/c1-18(32)23-26(33)30-24(27(34)40-17-19-13-15-20(16-14-19)31(35)36)25(41-21-9-5-3-6-10-21)28(2,29(23,30)43-44(37,38)39)42-22-11-7-4-8-12-22/h3-16,18,23,32H,17H2,1-2H3,(H2,37,38,39)/t18-,23-,28-,29+/m1/s1
InChI Key
OUPAKHMWUJJXOM-ANOMEZDXSA-N
Molecular Formula
C22H25N5O2
Molecular Weight
391.466
EINECS
254-457-8
MDL Number
MFCD00132129
Properties
Appearance
Lyophilized
Safety Data
Symbol

GHS07,GHS08
Signal Word
Danger
Hazard statements
H315 – H319 – H334 – H335
Precautionary Statements
P302 + P352 – P305 + P351 + P338
Target organs
Respiratory system
Personal Protective Equipment
dust mask type N95 (US), Eyeshields, Faceshields, Gloves
RIDADR
NONH for all modes of transport
WGK Germany
1
Specifications and Other Information of Our Recombinant Proteinase K EC 3.4.21.14 CAS 39450-01-6
Purity
≥95%
Specific activity
≥30 units/mg
Molecular Weight(SDS-PAGE)
29.3kD
Unit definition
One unit is defined as the amount of enzyme that will hydrolyze urea-denatured hemoglobin to produce color equivalent to 1.0 mol tyrosine per min at 37°C, pH 7.5(color by Folin-Ciocalteu reagent).
Description
A serine protease that displays the ability to digest native proteins, thereby inactivating enzymes such as DNase and RNase without recourse to a denaturation process. It retains its activity in presence of SDS and urea. It is inactivated by diisopropyl fluorophosphates (DFP) and phenyl methane sulfonyl fluoride (PMSF).
Recommended usage
Prepare recombinant proteinase K with 20mM Tris-HCl (pH 7.4~8.0),1mM CaCl2 ,50% glycerol.The optimum pH is 8.0.
Storage
Store lyophilized at -20°C. Aliquot the product after reconstitution to avoid repeated freezing thawing cycles.
Links
This product is developed by our R&D company Watson Bio Ltd(
https://www.watson-bio.com/
), and here is the corresponding link
https://www.watson-bio.com/recombinant-proteinase-k-ec-3-4-21-14-cas-39450-01-6/
Quick Inquiry
Fill out our inquiry form and one of our experts will be in touch with you shortly (Please change screen to horizontal for complete browsing if you are checking Watson on your mobile phone).