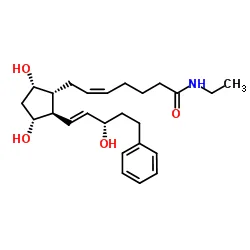 Identification
Properties
Safety Data
Specifications andamp; Other Information
Links
Identification
CAS Number
155206-00-1
Name
Bimatoprost
Synonyms
(5Z)-7-{(1R,2R,3R,5S)-3,5-Dihydroxy-2-[(1E,3S)-3-hydroxy-5-phenyl-1-penten-1-yl]cyclopentyl}-N-ethyl-5-heptenamid [German] [ACD/IUPAC Name] (5Z)-7-{(1R,2R,3R,5S)-3,5-Dihydroxy-2-[(1E,3S)-3-hydroxy-5-phenyl-1-penten-1-yl]cyclopentyl}-N-ethyl-5-heptenamide [ACD/IUPAC Name] (5Z)-7-{(1R,2R,3R,5S)-3,5-Dihydroxy-2-[(1E,3S)-3-hydroxy-5-phényl-1-pentén-1-yl]cyclopentyl}-N-éthyl-5-hepténamide [French] [ACD/IUPAC Name] (5Z)-7-{(1R,2R,3R,5S)-3,5-Dihydroxy-2-[(1E,3S)-3-hydroxy-5-phenylpent-1-en-1-yl]cyclopentyl}-N-ethylhept-5-enamide 5-Heptenamide, 7-[(1R,2R,3R,5S)-3,5-dihydroxy-2-[(1E,3S)-3-hydroxy-5-phenyl-1-penten-1-yl]cyclopentyl]-N-ethyl-, (5Z)- [ACD/Index Name] bimatoprost [French] [INN] bimatoprost [Spanish] [INN] Bimatoprost [USAN] [Wiki] bimatoprostum [Latin] [INN] Lumigan [Trade name] биматопрост [Russian] [INN] بيماتوبروست [Arabic] [INN] 贝美前列素 [Chinese] [INN] (5Z)-7-[(1R,2R,3R,5S)-3,5-dihydroxy-2-[(1E,3S)-3-hydroxy-5-phenylpent-1-en-1-yl]cyclopentyl]-N-ethylhept-5-enamide (Z)-7-((1R,2R,3R,5S)-3,5-Dihydroxy-2-((1E,3S)-3-hydroxy-5-phenyl-1-pentenyl)cyclopentyl)-N-ethyl-5-heptenamide (Z)-7-((1R,2R,3R,5S)-3,5-dihydroxy-2-((S,E)-3-hydroxy-5-phenylpent-1-en-1-yl)cyclopentyl)-N-ethylhept-5-enamide (Z)-7-[(1R,2R,3R,5S)-3,5-dihydroxy-2-[(E,3S)-3-hydroxy-5-phenylpent-1-enyl]cyclopentyl]-N-ethylhept-5-enamide (Z)-7-[(1R,2R,3R,5S)-3,5-dihydroxy-2-[(E,3S)-3-hydroxy-5-phenyl-pent-1-enyl]cyclopentyl]-N-ethyl-hept-5-enamide [155206-00-1] 155206-00-1 [RN] 267244-98-4 [RN] 5-Heptenamide, 7-((1R,2R,3R,5S)-3,5-dihydroxy-2-((1E,3S)-3-hydroxy-5-phenyl-1-pentenyl)cyclopentyl)-N-ethyl-, (5Z)- 5-Heptenamide, 7-(3,5-dihydroxy-2-(3-hydrdoxy-5-phenyl-1-pentenyl)cyclopentyl)-N-ethyl-, (1R-(1α(Z),2β(1E,3S*),3α,5α))- AGN 192024|LS-181817|Lumigan® Lumigan (TN) Lumigan® Lumigan; Latisse; AGN 192024; bimatoprostum; Lumigan (TN); AC1NSJUW; AGN-192024; UNII-QXS94885MZ MFCD03411999 [MDL number] UNII-QXS94885MZ
Molecular Structure
SMILES
CCNC(=O)CCC/C=C\C[
[email protected]
]1[
[email protected]
](C[
[email protected]
]([
[email protected]
@H]1/C=C/[
[email protected]
](CCc2ccccc2)O)O)O
StdInChI
InChI=1S/C25H37NO4/c1-2-26-25(30)13-9-4-3-8-12-21-22(24(29)18-23(21)28)17-16-20(27)15-14-19-10-6-5-7-11-19/h3,5-8,10-11,16-17,20-24,27-29H,2,4,9,12-15,18H2,1H3,(H,26,30)/b8-3-,17-16+/t20-,21+,22+,23-,24+/m0/s1
StdInChIKey
AQOKCDNYWBIDND-FTOWTWDKSA-N
Molecular Formula
C25H37NO4
Molecular Weight
415.57
Properties
Appearance
White powder
Safety Data
Personal Protective Equipment
Eyeshields, Gloves, type N95 (US), type P1 (EN143) respirator filter
RIDADR
NONH for all modes of transport
WGK Germany
3
MSDS
MSDS of Bimatoprost CAS 155206-00-1
Specifications and Other Information of Our Bimatoprost CAS 155206-00-1
Standard
Enterprise standard
Certificate
GMP
Identification Methods
HNMR/HPLC
Purity
99.5% min
Specific Optical Rotation
+33.0-+37.0°
Heavy Metals
10ppmmax
Residue on Ignition
0.1%max
Single Impurity
0.1%max
Total Impurities
0.5%max
Storage
Store at the 2-8℃
Adding proportion for reference
0.03%/100ml
Application
Bimatoprost is a prostaglandin analog used topically (as eye drops) to control the progression of glaucoma and in the management of ocular hypertension. It reduces intraocular pressure (IOP) by increasing the outflow of aqueous fluid from the eyes. It has also been used and prescribed off-label to lengthen eyelashes.
General View of Documents
Links
This product is developed by our RD company Caming Pharmaceutical Ltd(
http://www.caming.com/
), and here is the corresponding link
http://www.caming.com/bimatoprost-cas-155206-00-1/
Quick Inquiry
Fill out our inquiry form and one of our experts will be in touch with you shortly (Please change screen to horizontal for complete browsing if you are checking Watson on your mobile phone).