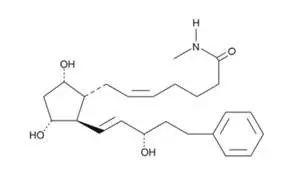 Identification
Properties
Safety Data
Specifications andamp; Other Information
Links
Identification
CAS Number
155206-01-2
Name
Methylamido Dihydro Noralfaprostal
Synonyms
(5Z)-7-{(1R,2R,3R,5S)-3,5-Dihydroxy-2-[(1E,3S)-3-hydroxy-5-phenyl-1-penten-1-yl]cyclopentyl}-N-methyl-5-heptenamid [German] [ACD/IUPAC Name] (5Z)-7-{(1R,2R,3R,5S)-3,5-Dihydroxy-2-[(1E,3S)-3-hydroxy-5-phenyl-1-penten-1-yl]cyclopentyl}-N-methyl-5-heptenamide [ACD/IUPAC Name] (5Z)-7-{(1R,2R,3R,5S)-3,5-Dihydroxy-2-[(1E,3S)-3-hydroxy-5-phényl-1-pentén-1-yl]cyclopentyl}-N-méthyl-5-hepténamide [French] [ACD/IUPAC Name] 5-Heptenamide, 7-[(1R,2R,3R,5S)-3,5-dihydroxy-2-[(1E,3S)-3-hydroxy-5-phenyl-1-penten-1-yl]cyclopentyl]-N-methyl-, (5Z)- [ACD/Index Name] (5Z)-7-[(1R,2R,3R,5S)-3,5-dihydroxy-2-[(1E,3S)-3-hydroxy-5-phenyl-1-penten-1-yl]cyclopentyl]-N-methyl-5-heptenamide 155206-01-2 [RN] 17-phenyl trinor Prostaglandin F2? methyl amide MDN MeBMP
Molecular Structure
SMILES
CNC(=O)CCC/C=C\C[
[email protected]
]1[
[email protected]
](C[
[email protected]
]([
[email protected]
@H]1/C=C/[
[email protected]
](CCc2ccccc2)O)O)O
StdInChI
InChI=1S/C24H35NO4/c1-25-24(29)12-8-3-2-7-11-20-21(23(28)17-22(20)27)16-15-19(26)14-13-18-9-5-4-6-10-18/h2,4-7,9-10,15-16,19-23,26-28H,3,8,11-14,17H2,1H3,(H,25,29)/b7-2-,16-15+/t19-,20+,21+,22-,23+/m0/s1
StdInChIKey
UWIWNJFBNIMMGY-FDBOBMRISA-N
Molecular Formula
C24H35NO4
Molecular Weight
401.539
Properties
Appearance
Off-white to light yellow solid or light yellow to yellow oily liquid
Safety Data
WGK Germany
3
Specifications and Other Information of Our Methylamido Dihydro Noralfaprostal CAS 155206-01-2
Standard
Enterprise Standard
Identification Methods
HNMR, HPLC
Purity
99% min
Related substances
15R-MND
≤0.30%
5,6-trans-MND
≤0.50%
Total impurities
≤0.50%
Storage
Store at the 2-8℃
Shelf life
1 year
Application
Methylamido Dihydro Noralfaprostal is a prostaglandin analog used to lengthen eyelashes. It has very similar use with another prostaglandin analog, Bimatoprost but may replace Bimatoprost in Europe on lengthening eyelashes due to some possible regulation changes.
General View of Documents
Links
This product is developed by our RD company Caming Pharmaceutical Ltd(
http://www.caming.com/
), and here is the corresponding link
http://www.caming.com/methylamido-dihydro-noralfaprostal-cas-155206-01-2/
Quick Inquiry
Fill out our inquiry form and one of our experts will be in touch with you shortly (Please change screen to horizontal for complete browsing if you are checking Watson on your mobile phone).