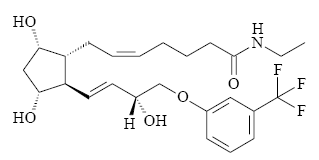 TrifluoroMethyl Dechloro CAS 1005193-64-5
Identification
Properties
Safety Data
Specifications & Other Information
Links

Identification
CAS Number
1005193-64-5
Name
Trifluoromethyl Dechloro Ethylprostenolamide
Synonyms
(5Z)-7-[(1R,2R,3R,5S)-3,5-Dihydroxy-2-{(1E,3R)-3-hydroxy-4-[3-(trifluormethyl)phenoxy]-1-buten-1-yl}cyclopentyl]-N-ethyl-5-heptenamid [German] [ACD/IUPAC Name]
(5Z)-7-[(1R,2R,3R,5S)-3,5-Dihydroxy-2-{(1E,3R)-3-hydroxy-4-[3-(trifluoromethyl)phenoxy]-1-buten-1-yl}cyclopentyl]-N-ethyl-5-heptenamide [ACD/IUPAC Name]
(5Z)-7-[(1R,2R,3R,5S)-3,5-Dihydroxy-2-{(1E,3R)-3-hydroxy-4-[3-(trifluorométhyl)phénoxy]-1-butén-1-yl}cyclopentyl]-N-éthyl-5-hepténamide [French] [ACD/IUPAC Name]
5-Heptenamide, 7-[(1R,2R,3R,5S)-3,5-dihydroxy-2-[(1E,3R)-3-hydroxy-4-[3-(trifluoromethyl)phenoxy]-1-buten-1-yl]cyclopentyl]-N-ethyl-, (5Z)- [ACD/Index Name]
(5Z)-7-((1R,2R,3R,5S)-2-((R,E)-4-(3-(trifluoromethyl)phenoxy)-3-hydroxybut-1-enyl)-3,5-dihydroxycyclopentyl)-N-ethylhept-5-enamide
1005193-64-5 [RN]
Trifluoromethyl Dechloro Ethylcloprostenolamide
SMILES
CCNC(=O)CCC/C=C\C[[email protected]]1[[email protected]](C[[email protected]]([[email protected]@H]1/C=C/[[email protected]](COc2cccc(c2)C(F)(F)F)O)O)O
StdInChI
InChI=1S/C25H34F3NO5/c1-2-29-24(33)11-6-4-3-5-10-20-21(23(32)15-22(20)31)13-12-18(30)16-34-19-9-7-8-17(14-19)25(26,27)28/h3,5,7-9,12-14,18,20-23,30-32H,2,4,6,10-11,15-16H2,1H3,(H,29,33)/b5-3-,13-12+/t18-,20-,21-,22+,23-/m1/s1
StdInChIKey
GAAVJEMZITUZOC-XBUSSCQASA-N
Molecular Formula
C25H34F3NO5
Molecular Weight
485.536

Properties
Appearance
A pale yellow to colorless Oil

Safety Data
WGK Germany
3

Specifications and Other Information of Our Trifluoromethyl Dechloro Ethylprostenolamide CAS 1005193-64-5
Standard
Enterprise standard
Identification Methods
HPLC,RT of the sample should match with standard in the Purity
Purity
97%min
Water
1.0%max
Residual solvents
Ethanol
0.5%max
n-Hexane
0.029%max
Isopropanol
0.5%max
15-epi Diastereomer
0.5%max
5,6-trans Isomer
1.0%max
Other maximum single impurity
0.3%max
Total other impurities
1.0%max
General View of Documents
Package
According to customer requirements to packaging
Storage
Store at 2°C ~ 8°C for long time, in container tightly sealed; Protect from light.
Shelf Life
2 years
Application
Used to lengthen eyelashes.
Links
This product is developed by our R&D company Caming Pharmaceutical Ltd(http://www.caming.com/), and here is the corresponding linkhttp://www.caming.com/trifluoromethyl-dechloro-ethylprostenolamide-cas-1005193-64-5/
Quick Inquiry
Fill out our inquiry form and one of our experts will be in touch with you shortly.