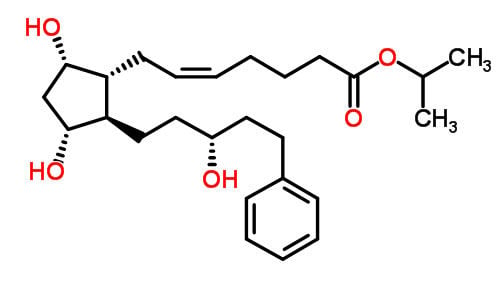 Identification
Properties
Safety Data
Specifications andamp; Other Information
Links
Identification
CAS Number
130209-82-4
41639-74-1
Name
Latanoprost
Synonyms
(5Z)-7-{(1R,2R,3R,5S)-3,5-Dihydroxy-2-[(3R)-3-hydroxy-5-phénylpentyl]cyclopentyl}-5-hepténoate d'isopropyle [French] [ACD/IUPAC Name]
(5Z)-7-{(1R,2R,3R,5S)-3,5-dihydroxy-2-[(3R)-3-hydroxy-5-phénylpentyl]cyclopentyl}hept-5-énoate de 1-méthyléthyle
[1R-[1a(Z),2b(R*),3a,5a]]-7-[3,5-Dihydroxy-2-(3-hydroxy-5-phenylpentyl)cyclopentyl]-5-heptenoic Acid 1-Methylethyl Ester
13,14-Dihydro-17-phenyl-18,19,20-trinor-PGF2a-isopropyl Ester
130209-82-4 [RN]
1-methylethyl (5Z)-7-{(1R,2R,3R,5S)-3,5-dihydroxy-2-[(3R)-3-hydroxy-5-phenylpentyl]cyclopentyl}hept-5-enoate
1-Methylethyl-(5Z)-7-{(1R,2R,3R,5S)-3,5-dihydroxy-2-[(3R)-3-hydroxy-5-phenylpentyl]cyclopentyl}hept-5-enoat
5-Heptenoic acid, 7-[(1R,2R,3R,5S)-3,5-dihydroxy-2-[(3R)-3-hydroxy-5-phenylpentyl]cyclopentyl]-, 1-methylethyl ester, (5Z)- [ACD/Index Name]
Isopropyl (5Z)-7-{(1R,2R,3R,5S)-3,5-dihydroxy-2-[(3R)-3-hydroxy-5-phenylpentyl]cyclopentyl}-5-heptenoate [ACD/IUPAC Name]
Isopropyl (5Z)-7-{(1R,2R,3R,5S)-3,5-dihydroxy-2-[(3R)-3-hydroxy-5-phenylpentyl]cyclopentyl}hept-5-enoate
Isopropyl (Z)-7-[(1R,2R,3R,5S)-3,5-dihydroxy-2-[(3R)-3-hydroxy-5-phenylpentyl]cyclopentyl]-5-heptenoate
Isopropyl-(5Z)-7-{(1R,2R,3R,5S)-3,5-dihydroxy-2-[(3R)-3-hydroxy-5-phenylpentyl]cyclopentyl}-5-heptenoat [German] [ACD/IUPAC Name]
latanoprost [French] [INN]
latanoprost [Spanish] [INN]
Latanoprost [INN] [JAN] [USAN] [Wiki]
latanoprostum [Latin] [INN]
propan-2-yl (5Z)-7-{(1R,2R,3R,5S)-3,5-dihydroxy-2-[(3R)-3-hydroxy-5-phenylpentyl]cyclopentyl}hept-5-enoate
Propan-2-yl-(5Z)-7-{(1R,2R,3R,5S)-3,5-dihydroxy-2-[(3R)-3-hydroxy-5-phenylpentyl]cyclopentyl}hept-5-enoat
Xalatan [Trade name]
латанопрост [Russian] [INN]
لاتانوبروست [Arabic] [INN]
拉坦前列素 [Chinese] [INN]
(Z)-7-[(1R,2R,3R,5S)-3,5-dihydroxy-2-[(3R)-3-hydroxy-5-phenylpentyl]cyclopentyl]hept-5-enoic acid isopropyl ester
(Z)-7-[(1R,2R,3R,5S)-3,5-dihydroxy-2-[(3R)-3-hydroxy-5-phenyl-pentyl]cyclopentyl]hept-5-enoic acid isopropyl ester
[130209-82-4]
5912370 [Beilstein]
9α,11α,15R-trihydroxy-17-phenyl-18,19,20-trinor-prost-5Z-en-1-oic acid, isopropyl ester
Arulatan
Arulatan (Trade name)
Arulatan; Gaap; Gaap Ofteno; Gaax; Glaucogesic; Glaumax; Glauprost; Hysite; Iopize; Ioprost; Ioptame; Klonaprost; Lanoprost; Lanotan; Laprost; Latacris; Latalux; Latan-Ophtal; Lataneau
cGMP Latanoprost
Gaap
Gaap (Trade name)
Gaap Ofteno
Gaap Ofteno (Trade name)
Gaax
Gaax (Trade name)
Glaucogesic
Glaucogesic (Trade name)
Glaumax
Glaumax (Trade name)
Glauprost
Glauprost (Trade name)
Hysite
Hysite (Trade name)
Iopize
Iopize (Trade name)
Ioprost
Ioprost (Trade name)
Ioptame
Ioptame (Trade name)
isopropyl (5Z,9α,11α,15R)-9,11,15-trihydroxy-17-phenyl-18,19,20-trinorprost-5-en-1-oate
Isopropyl (5Z,9α,11α,15R)-9,11,15-trihydroxy-17-phenyl-18,19,20-trinor-prost-5-en-1-oate
isopropyl (Z)-7-((1R,2R,3R,5S)-3,5-dihydroxy-2-((3R)-3-hydroxy-5-phenylpentyl)cyclopentyl)-5-heptenoate
isopropyl (Z)-7-[(1R,2R,3R,5S)-3,5-dihydroxy-2-[(3R)-3-hydroxy-5-phenyl-pentyl]cyclopentyl]hept-5-enoate
Klonaprost
Klonaprost (Trade name)
Lanoprost
Lanoprost (Trade name)
Lanotan
Lanotan (Trade name)
Laprost
Laprost (Trade name)
Lata prostaglandin
Latacris
Latacris (Trade name)
Latalux
Latalux (Trade name)
Lataneau
Latan-Ophtal
Latan-Ophtal (Trade name)
Latanoprost (free acid)
latanoprost (isopropyl ester)
latanoprost; latanoprostum
Latanoprostum
MFCD00216074 [MDL number]
MJ9669550
MLS000759468
PHXA41
PHXA-41
PHXA-41|XA-41|Xalatan®
propan-2-yl (5Z)-7-[(1R,2R,3R,5S)-3,5-dihydroxy-2-[(3R)-3-hydroxy-5-phenylpentyl]cyclopentyl]hept-5-enoate
propan-2-yl (Z)-7-[(1R,2R,3R,5S)-3,5-dihydroxy-2-[(3R)-3-hydroxy-5-phenylpentyl]cyclopentyl]hept-5-enoate
propan-2-yl (Z)-7-[(1R,2R,3R,5S)-3,5-dihydroxy-2-[(3R)-3-hydroxy-5-phenyl-pentyl]cyclopentyl]hept-5-enoate
SMR000466354
TL8000716
UNII-6Z5B6HVF6O
XA41
XA-41
Xalatan (TN)
Xalatan®
Molecular Structure
SMILES
CC(C)OC(=O)CCC/C=C\C[[email protected]]1[[email protected]](C[[email protected]]([[email protected]@H]1CC[[email protected]](CCc2ccccc2)O)O)O
StdInChI
InChI=1S/C26H40O5/c1-19(2)31-26(30)13-9-4-3-8-12-22-23(25(29)18-24(22)28)17-16-21(27)15-14-20-10-6-5-7-11-20/h3,5-8,10-11,19,21-25,27-29H,4,9,12-18H2,1-2H3/b8-3-/t21-,22+,23+,24-,25+/m0/s1
StdInChIKey
GGXICVAJURFBLW-CEYXHVGTSA-N
Molecular Formula
C26H40O5
Molecular Weight
432.59
Safety Data
Symbol
GHS06
Signal Word
Danger
Hazard Statements
Precautionary Statements
Personal Protective Equipment
Eyeshields, Faceshields, Gloves, type N95 (US), type P1 (EN143) respirator filter
WGK Germany
3
RTECS
MJ9669550
Specifications and Other Information of Our Latanoprost CAS 130209-82-4(41639-74-1)
Standard
Enterprise standard
Identification Methods
HNMR/HPLC
Purity
98% min
Storage
Store at the 2-8℃
Adding proportion for reference
0.005%/100ml
Application
Latanoprost is a topical eye medication used to reduce pressure inside the eye. It is used to treat eye conditions, including glaucoma and ocular hypertension, in which increased pressure can lead to a gradual loss of vision.
Links
This product is developed by our RD company Caming Pharmaceutical Ltd(http://www.caming.com/), and here is the corresponding linkhttp://caming.com/latanoprost-cas-130209-82-4/
Quick Inquiry
Fill out our inquiry form and one of our experts will be in touch with you shortly (Please change screen to horizontal for complete browsing if you are checking Watson on your mobile phone).