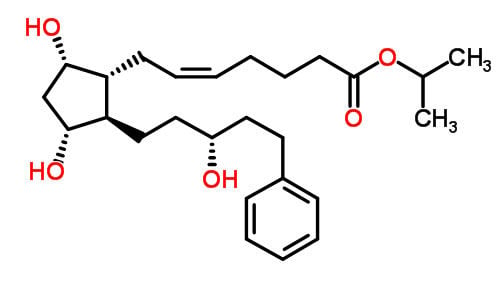 Iden­ti­fi­ca­tion
Prop­er­ties
Safe­ty Data
Spec­i­fi­ca­tions andamp ; Oth­er Infor­ma­tion
Links
Iden­ti­fi­ca­tion
CAS

Number

130209-82-4
41639-74-1
Name
Latanoprost
Syn­onyms
(5Z)-7-{(1R,2R,3R,5S)-3,5-Dihydroxy-2-[(3R)-3-hydroxy-5-phénylpentyl]cyclopentyl}-5-hepténoate d'isopropyle [French] [ACD/IUPAC Name]
(5Z)-7-{(1R,2R,3R,5S)-3,5-dihydroxy-2-[(3R)-3-hydroxy-5-phénylpentyl]cyclopentyl}hept-5-énoate de 1-méthyléthyle
[1R-[1a(Z),2b(R*),3a,5a]]-7-[3,5-Dihydroxy-2-(3-hydroxy-5-phenylpentyl)cyclopentyl]-5-heptenoic Acid 1-Methylethyl Ester
13,14-Dihydro-17-phenyl-18,19,20-trinor-PGF2a-isopropyl Ester
130209-82-4 [RN]
1-methylethyl (5Z)-7-{(1R,2R,3R,5S)-3,5-dihydroxy-2-[(3R)-3-hydroxy-5-phenylpentyl]cyclopentyl}hept-5-enoate
1-Methylethyl-(5Z)-7-{(1R,2R,3R,5S)-3,5-dihydroxy-2-[(3R)-3-hydroxy-5-phenylpentyl]cyclopentyl}hept-5-enoat
5-Hep­­tenoic acid, 7-[(1R,2R,3R,5S)-3,5-dihydroxy-2-[(3R)-3-hydroxy-5-phenylpentyl]cyclopentyl]-, 1-methylethyl ester, (5Z)- [ACD/​Index Name]
Iso­propyl (5Z)-7-{(1R,2R,3R,5S)-3,5-dihydroxy-2-[(3R)-3-hydroxy-5-phenylpentyl]cyclopentyl}-5-heptenoate [ACD/IUPAC Name]
Iso­propyl (5Z)-7-{(1R,2R,3R,5S)-3,5-dihydroxy-2-[(3R)-3-hydroxy-5-phenylpentyl]cyclopentyl}hept-5-enoate
Iso­propyl (Z)-7-[(1R,2R,3R,5S)-3,5-dihydroxy-2-[(3R)-3-hydroxy-5-phenylpentyl]cyclopentyl]-5-heptenoate
Iso­propyl-(5Z)-7-{(1R,2R,3R,5S)-3,5-dihydroxy-2-[(3R)-3-hydroxy-5-phenylpentyl]cyclopentyl}-5-heptenoat [Ger­man] [ACD/IUPAC Name]
latanoprost [French] [INN]
latanoprost [Span­ish] [INN]
Latanoprost [INN] [JAN] [USAN] [Wiki]
latanopros­tum [Latin] [INN]
propan-2-yl (5Z)-7-{(1R,2R,3R,5S)-3,5-dihydroxy-2-[(3R)-3-hydroxy-5-phenylpentyl]cyclopentyl}hept-5-enoate
Propan-2-yl-(5Z)-7-{(1R,2R,3R,5S)-3,5-dihydroxy-2-[(3R)-3-hydroxy-5-phenylpentyl]cyclopentyl}hept-5-enoat
Xala­tan [Trade name]
латанопрост [Russ­ian] [INN]
لاتانوبروست [Ara­bic] [INN]
拉坦前列素 [Chi­nese] [INN]
(Z)-7-[(1R,2R,3R,5S)-3,5-dihydroxy-2-[(3R)-3-hydroxy-5-phenylpentyl]cyclopentyl]hept-5-enoic acid iso­propyl ester
(Z)-7-[(1R,2R,3R,5S)-3,5-dihydroxy-2-[(3R)-3-hydroxy-5-phenyl-pentyl]cyclopentyl]hept-5-enoic acid iso­propyl ester
[130209-82-4]
5912370 [Beil­stein]
9α,11α,15R-trihydroxy-17-phenyl-18,19,20-trinor-prost-5Z-en-1-oic acid, iso­propyl ester
Aru­la­tan
Aru­la­tan (Trade name)
Aru­la­tan ; Gaap ; Gaap Ofteno ; Gaax ; Glauco­gesic ; Glau­max ; Glauprost ; Hysite ; Iopize ; Ioprost ; Iop­tame ; Klon­aprost ; Lanoprost ; Lan­o­tan ; Laprost ; Lat­acris ; Latalux ; Latan-Oph­­tal ; Lataneau
cGMP Latanoprost
Gaap
Gaap (Trade name)
Gaap Ofteno
Gaap Ofteno (Trade name)
Gaax
Gaax (Trade name)
Glauco­gesic
Glauco­gesic (Trade name)
Glau­max
Glau­max (Trade name)
Glauprost
Glauprost (Trade name)
Hysite
Hysite (Trade name)
Iopize
Iopize (Trade name)
Ioprost
Ioprost (Trade name)
Iop­tame
Iop­tame (Trade name)
iso­propyl (5Z,9α,11α,15R)-9,11,15-trihydroxy-17-phenyl-18,19,20-trinorprost-5-en-1-oate
Iso­propyl (5Z,9α,11α,15R)-9,11,15-trihydroxy-17-phenyl-18,19,20-trinor-prost-5-en-1-oate
iso­propyl (Z)-7-((1R,2R,3R,5S)-3,5-dihydroxy-2-((3R)-3-hydroxy-5-phenylpentyl)cyclopentyl)-5-heptenoate
iso­propyl (Z)-7-[(1R,2R,3R,5S)-3,5-dihydroxy-2-[(3R)-3-hydroxy-5-phenyl-pentyl]cyclopentyl]hept-5-enoate
Klon­aprost
Klon­aprost (Trade name)
Lanoprost
Lanoprost (Trade name)
Lan­o­tan
Lan­o­tan (Trade name)
Laprost
Laprost (Trade name)
Lata prostaglandin
Lat­acris
Lat­acris (Trade name)
Latalux
Latalux (Trade name)
Lataneau
Latan-Oph­­tal
Latan-Oph­­tal (Trade name)
Latanoprost (free acid)
latanoprost (iso­propyl ester)
latanoprost ; latanopros­tum
Latanopros­tum
MFCD00216074 [MDL num­ber]
MJ9669550
MLS000759468
PHXA41
PHXA-41
PHXA-41|XA-41|Xala­tan®
propan-2-yl (5Z)-7-[(1R,2R,3R,5S)-3,5-dihydroxy-2-[(3R)-3-hydroxy-5-phenylpentyl]cyclopentyl]hept-5-enoate
propan-2-yl (Z)-7-[(1R,2R,3R,5S)-3,5-dihydroxy-2-[(3R)-3-hydroxy-5-phenylpentyl]cyclopentyl]hept-5-enoate
propan-2-yl (Z)-7-[(1R,2R,3R,5S)-3,5-dihydroxy-2-[(3R)-3-hydroxy-5-phenyl-pentyl]cyclopentyl]hept-5-enoate
SMR000466354
TL8000716
UNII-6Z5B6HVF6O
XA41
XA-41
Xala­tan (TN)
Xala­tan®
Mol­e­c­u­lar Structure
SMILES
CC(C)OC(=O)CCC/C=C\C[[email protected]]1[[email protected]](C[[email protected]]([[email protected]@H]1CC[[email protected]](CCc2ccccc2)O)O)O
Std­InChI
InChI=1S/C26H40O5/c1-19(2)31-26(30)13-9-4-3-8-12-22-23(25(29)18-24(22)28)17-16-21(27)15-14-20-10-6-5-7-11-20/h3,5-8,10-11,19,21-25,27-29H,4,9,12-18H2,1-2H3/b8-3-/t21-,22+,23+,24-,25+/m0/s1
Std­InChIKey
GGX­I­C­­VA­JUR­F­BLW-CEYX­HVGT­SA-N
Mol­e­c­u­lar Formula
C26H40O5
Mol­e­c­u­lar Weight
432.59
Safe­ty Data
Sym­bol
GHS06
Sig­nal Word
Dan­ger
Haz­ard Statements
Pre­cau­tion­ary Statements
Per­son­al Pro­tec­tive Equipment
Eye­shields, Faceshields, Gloves, type N95 (US), type P1 (EN143) res­pi­ra­tor filter
WGK

Germany

3
RTECS
MJ9669550
Spec­i­fi­ca­tions and Oth­er Infor­ma­tion of Our Latanoprost

CAS

130209-82-4(41639-74-1)
Stan­dard
Enter­prise standard
Iden­ti­fi­ca­tion Methods
HNMR/HPLC
Puri­ty
98% min
Descrip­tion
Latanoprost is a pale yel­low to yel­low vis­cous oil that is very sol­u­ble in ace­toni­trile and freely sol­u­ble in acetone,cthanol,ethyl acetate,isopropanol, methanol, and octanol, It is prac­ti­cal­ly insol­u­ble in water.
Adding pro­por­tion for reference
XEL­PROS(latanoprost oph­thalmie emul­sion) 0.005% is a sterie,isotonic,buffered aqucous emul­sionof latanoprost with a pH approx­i­mate­ly 7.0 and an osmo­lal­i­ty­of approx­i­mat­cly 375mOsmol/​kg.
Each mL of XEL­PROS con­tains 50 micro­grams of latanoprost. Potas­si­um sor­bate 0.47% is added as a preser­v­a­tive.
The inac­tive ingredic­nts are : cas­tor oil, sodi­um borate, boric acid, propy­lene glycol,edetate dis­odi­um, poly­oxyl 15 hydrox­ys­tearate, sodi­um hydrox­ide, hydrochlo­ric acid,and water for injc­c­tion. One drop con­tains approx­i­mate­ly 1.5 mcg of latanoprost.
Stor­age
Store at the 2-8℃
Appli­ca­tion
Latanoprost is a top­i­cal eye med­ica­tion used to reduce pres­sure inside the eye. It is used to treat eye con­di­tions, includ­ing glau­co­ma and ocu­lar hyper­ten­sion, in which increased pres­sure can lead to a grad­ual loss of vision.
Links
This prod­uct is devel­oped by our RD com­pa­ny Cam­ing Phar­ma­ceu­ti­cal Ltd(http://​www​.cam​ing​.com/), and here is the cor­re­spond­ing linkhttp://​cam​ing​.com/​l​a​t​a​n​o​p​r​o​s​t​-​c​a​s​-​1​3​0​2​0​9​-​8​2​-4/
Quick Inquiry
Fill out our inquiry form and one of our experts will be in touch with you short­ly (Please change screen to hor­i­zon­tal for com­plete brows­ing if you are check­ing Wat­son on your mobile phone).