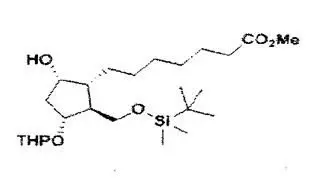 Identification
Properties
Safety Data
Specifications and Other Information
Links
Identification
CAS Number
946081-35-2
Name
Prostaglandin intermediates
Molecular Structure
Application
Used as the pharmaceutical intermediates of Prostaglandin.
Links
Quick Inquiry
Fill out our inquiry form and one of our experts will be in touch with you shortly (Please change screen to horizontal for complete browsing if you are checking Watson on your mobile phone).
andD purpose. It may be toxic or hazardous, and should be handled only by qualified individuals trained in laboratory procedures. The buyer will be responsible to warn and inform any person that may be in contact with the product of the potential risks and hazards, as well as to ensure that purchase, use and disposal of the product comply with local laws and regulations.