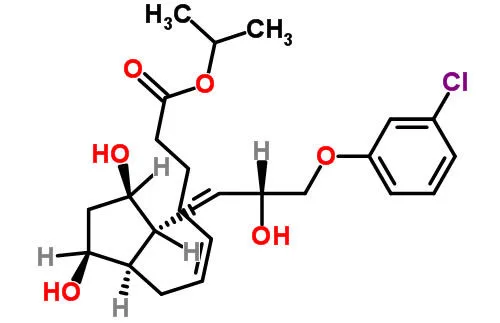 Iden­ti­fi­ca­tion
Prop­er­ties
Safe­ty Data
Spec­i­fi­ca­tions andamp ; Oth­er Information
Links
Iden­ti­fi­ca­tion
CAS

Number

157283-66-4
Name
Clo­prostenol iso­propyl ester
Syn­onyms
(5Z)-7-{(1R,2R,3R,5S)-2-[(3R)-4-(3-Chlorophénoxy)-3-hydroxy-1-butén-1-yl]-3,5-dihydroxycyclopentyl}-5-hepténoate d'isopropyle [French] [ACD/IUPAC Name]
5-Hep­­tenoic acid, 7-[(1R,2R,3R,5S)-2-[(3R)-4-(3-chlorophenoxy)-3-hydroxy-1-buten-1-yl]-3,5-dihydroxycyclopentyl]-, 1-methylethyl ester, (5Z)- [ACD/​Index Name]
Iso­propyl (5Z)-7-{(1R,2R,3R,5S)-2-[(3R)-4-(3-chlorophenoxy)-3-hydroxy-1-buten-1-yl]-3,5-dihydroxycyclopentyl}-5-heptenoate [ACD/IUPAC Name]
Iso­propyl-(5Z)-7-{(1R,2R,3R,5S)-2-[(3R)-4-(3-chlorphenoxy)-3-hydroxy-1-buten-1-yl]-3,5-dihydroxycyclopentyl}-5-heptenoat [Ger­man] [ACD/IUPAC Name]
(+)-9?,11?,15R-trihydroxy-16-(3-chlorophenoxy)-17,18,19,20-tetranor-prosta-5Z,13E-dien-1-oic acid, iso­propyl ester
(+)-Clo­prostenol iso­propyl ester
157283-66-4 [RN]
ISO­PROPYL CLO­PROSTE­NATE
Mol­e­c­u­lar Structure
SMILES
CC(C)OC(=O)CCC/C=C\C[C@H]1[C@H](C[C@H]([C@@H]1C=C[C@H](COc2cccc(c2)Cl)O)O)O
Std­InChI
InChI=1S/C25H35ClO6/c1-17(2)32-25(30)11-6-4-3-5-10-21-22(24(29)15-23(21)28)13-12-19(27)16-31-20-9-7-8-18(26)14-20/h3,5,7-9,12-14,17,19,21-24,27-29H,4,6,10-11,15-16H2,1-2H3/b5-3-,13-12?/t19-,21-,22-,23+,24-/m1/s1
Std­InChIKey
OCN­SAYQJD­KJOLH-JSMWQALT­SA-N
Mol­e­c­u­lar Formula
C25H35ClO6
Mol­e­c­u­lar Weight
466.99
Prop­er­ties
Appear­ance
Col­or­less to Yel­low oil
Safe­ty Data
WGK

Germany

3
MSDS

Download
Spec­i­fi­ca­tions and Oth­er Infor­ma­tion of Our Clo­prostenol iso­propyl ester

CAS

157283-66-4
Stan­dard
Enter­prise standard
Iden­ti­fi­ca­tion Methods
HPLC
Puri­ty
99% min
Water
1.0% max
Sin­gle Impurity
0.5% max
Total Impu­ri­ties
1.5% max
Stor­age
2-8°C away from light
Appli­ca­tion
The inter­me­di­ate of Clo­prostenol.
(+)-Clo­prostenol is a syn­thet­ic ana­log of prostaglandin F2α (PGF2α). It is an FP recep­tor ago­nist and a potent lute­olyt­ic agent in rats and ham­sters. (+)-Clo­prostenol is the opti­cal­ly active, 15(R) enan­tiomer of clo­prostenol respon­si­ble for the major­i­ty of its bio­log­i­cal activ­i­ty. It is 200 times more potent than PGF2α in ter­mi­nat­ing preg­nan­cy when giv­en sub­cu­ta­neous­ly at a dai­ly dose of 0.125 μg/​kg in rats and ham­sters, with­out the side effects asso­ci­at­ed with PGF2α.1 (+)-Clo­prostenol was also shown to be a potent inhibitor of rat adi­pose pre­cur­sor dif­fer­en­ti­a­tion in pri­ma­ry cul­tures with an IC50 val­ue of 3 x 10-12 M.2 Clo­prostenol iso­propyl ester is a more lipid sol­u­ble form of cloprostenol.
Gen­er­al View of Documents
Links
This prod­uct is devel­oped by our RD com­pa­ny Cam­ing Phar­ma­ceu­ti­cal Ltd(http://​www​.cam​ing​.com/), and here is the cor­re­spond­ing linkhttp://​cam​ing​.com/​c​l​o​p​r​o​s​t​e​n​o​l​-​i​s​o​p​r​o​p​y​l​-​e​s​t​e​r​-​c​a​s​-​1​5​7​2​8​3​-​6​6​-4/
Quick Inquiry
Fill out our inquiry form and one of our experts will be in touch with you short­ly (Please change screen to hor­i­zon­tal for com­plete brows­ing if you are check­ing Wat­son on your mobile phone).