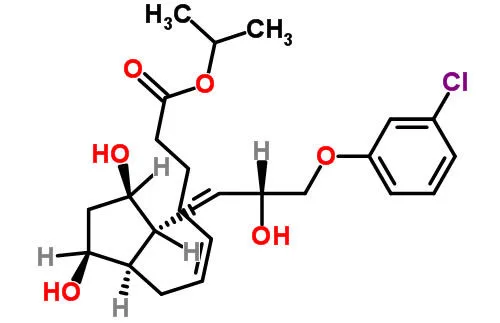 Identification
Properties
Safety Data
Specifications andamp; Other Information
Links
Identification
CAS Number
157283-66-4
Name
Cloprostenol isopropyl ester
Synonyms
(5Z)-7-{(1R,2R,3R,5S)-2-[(3R)-4-(3-Chlorophénoxy)-3-hydroxy-1-butén-1-yl]-3,5-dihydroxycyclopentyl}-5-hepténoate d'isopropyle [French] [ACD/IUPAC Name]
5-Heptenoic acid, 7-[(1R,2R,3R,5S)-2-[(3R)-4-(3-chlorophenoxy)-3-hydroxy-1-buten-1-yl]-3,5-dihydroxycyclopentyl]-, 1-methylethyl ester, (5Z)- [ACD/Index Name]
Isopropyl (5Z)-7-{(1R,2R,3R,5S)-2-[(3R)-4-(3-chlorophenoxy)-3-hydroxy-1-buten-1-yl]-3,5-dihydroxycyclopentyl}-5-heptenoate [ACD/IUPAC Name]
Isopropyl-(5Z)-7-{(1R,2R,3R,5S)-2-[(3R)-4-(3-chlorphenoxy)-3-hydroxy-1-buten-1-yl]-3,5-dihydroxycyclopentyl}-5-heptenoat [German] [ACD/IUPAC Name]
(+)-9?,11?,15R-trihydroxy-16-(3-chlorophenoxy)-17,18,19,20-tetranor-prosta-5Z,13E-dien-1-oic acid, isopropyl ester
(+)-Cloprostenol isopropyl ester
157283-66-4 [RN]
ISOPROPYL CLOPROSTENATE
Molecular Structure
SMILES
CC(C)OC(=O)CCC/C=C\C[[email protected]]1[[email protected]](C[[email protected]]([[email protected]@H]1C=C[[email protected]](COc2cccc(c2)Cl)O)O)O
StdInChI
InChI=1S/C25H35ClO6/c1-17(2)32-25(30)11-6-4-3-5-10-21-22(24(29)15-23(21)28)13-12-19(27)16-31-20-9-7-8-18(26)14-20/h3,5,7-9,12-14,17,19,21-24,27-29H,4,6,10-11,15-16H2,1-2H3/b5-3-,13-12?/t19-,21-,22-,23+,24-/m1/s1
StdInChIKey
OCNSAYQJDKJOLH-JSMWQALTSA-N
Molecular Formula
C25H35ClO6
Molecular Weight
466.99
Properties
Appearance
Colorless to Yellow oil
Safety Data
WGK Germany
3
MSDS Download
Specifications and Other Information of Our Cloprostenol isopropyl ester CAS 157283-66-4
Standard
Enterprise standard
Identification Methods
HPLC
Purity
99% min
Water
1.0% max
Single Impurity
0.5% max
Total Impurities
1.5% max
Storage
2-8°C away from light
Application
The intermediate of Cloprostenol.
(+)-Cloprostenol is a synthetic analog of prostaglandin F2α (PGF2α). It is an FP receptor agonist and a potent luteolytic agent in rats and hamsters. (+)-Cloprostenol is the optically active, 15(R) enantiomer of cloprostenol responsible for the majority of its biological activity. It is 200 times more potent than PGF2α in terminating pregnancy when given subcutaneously at a daily dose of 0.125 μg/kg in rats and hamsters, without the side effects associated with PGF2α.1 (+)-Cloprostenol was also shown to be a potent inhibitor of rat adipose precursor differentiation in primary cultures with an IC50 value of 3 x 10-12 M.2 Cloprostenol isopropyl ester is a more lipid soluble form of cloprostenol.
General View of Documents
Links
This product is developed by our RD company Caming Pharmaceutical Ltd(http://www.caming.com/), and here is the corresponding linkhttp://caming.com/cloprostenol-isopropyl-ester-cas-157283-66-4/
Quick Inquiry
Fill out our inquiry form and one of our experts will be in touch with you shortly (Please change screen to horizontal for complete browsing if you are checking Watson on your mobile phone).