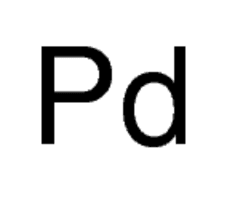 Palladium/carbon CAS 7440-05-3
Identification
Properties
Safety Data
Specifications & Other Information
Links
Identification
CAS Number
7440-05-3
Name
Palladium/carbon
Synonyms
231-115-6 [EINECS]
5TWQ1V240M
7440-05-3 [RN]
paladio [Spanish]
Palladium [ACD/Index Name] [ACD/IUPAC Name] [Wiki]
Palladium [German] [ACD/Index Name] [ACD/IUPAC Name]
Palladium [French] [ACD/Index Name] [ACD/IUPAC Name]
Pd [Formula]
(107pd)palladium
[53092-86-7]
[7440-05-3]
03.05.7440
03/05/7440
12135-22-7 [RN]
46Pd
72287-26-4 [RN]
EINECS 231-115-6
hydridopalladium
MFCD00011167 [MDL number]
MFCD00151707 [MDL number]
MFCD03457879 [MDL number]
MFCD03613605
MFCD11099370 [MDL number]
paladio
Palladium hydride
PALLADIUM ION
Palladium on activated carbon(wetted with ca. 55% water)
palladium(ii)
Palladium(II) ion)
palladium(iv)
Palladium(IV) ion
palladium/carbon
Pd(0)
Pd(2+)
Pd(4+)
Pd(II) ion
Pd2+
Pd4+
UNII:5TWQ1V240M
UNII-5TWQ1V240M
Molecular Formula
Pd
Molecular Weight
106.42
EINECS
231-115-6
Beilstein Registry Number
MFCD03457879
Properties
Appearance
Wet black powder
Safety Data
WGK Germany
3
Specifications and Other Information of Our Palladium/carbon CAS 7440-05-3
Standard
Enterprise standard
Content of Nobel Metal
±5%
Content of Impurities
| | | | | | |
| --- | --- | --- | --- | --- | --- |
| Rh≤0.02% | Ru≤0.02% | Ir≤0.02% | Zn≤0.005% | Cu≤0.005% | Ag≤0.005% |
| Ni≤0.005% | Al≤0.005% | Bi≤0.005% | Fe≤0.005% | Pt≤0.02% | Pb≤0.005% |
| Cr ≤0.005% | Sn ≤0.005% | Mn≤0.005% | Mg≤0.005% | Au≤0.01% | Si≤0.005% |
| Zr≤0.005% | Ti≤0.005% | Co≤0.005% | As≤0.005% | Sb≤0.01% | V≤0.005% |
| Cd ≤0.005% | W≤0.005% | Mo≤0.005% | Nb≤0.005% | | |
Performance
Specific surface area of active carbon: ≥970m2/g
Water
50%~60%
Package
According to customer requirements to packaging
Manufacturing Capacity
100MT/year
Storage
Under the room temperature and away from light
Application
Mainly used in thick film paste of electronic industry, internal and external electrode materials of multilayer ceramic capacitors; used in catalysts, also used in the manufacture of dental materials, watches and surgical instruments; used in the preparation of catalysts (palladium asbestos, sponge palladium, etc.) , low-current contact points, printed circuits, alloys for watches and clocks, etc.; used in electrical instruments, precision alloys, etc.; electrical instruments, chemical industry and manufacturing precision alloys, etc.
Links
This product is developed by our R&D company Warshel Chemical Ltd(http://www.warshel.com/), and here is the corresponding linkhttp://www.warshel.com/palladium-carbon-cas-7440-05-3/
Quick Inquiry
Fill out our inquiry form and one of our experts will be in touch with you shortly (Please change screen to horizontal for complete browsing if you are checking Watson on your mobile phone).