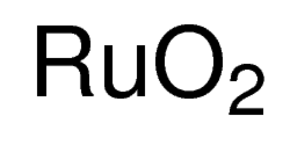 Ruthenium Oxide Anhydrous CAS 12036-10-1
Identification
Properties
Safety Data
Specifications & Other Information
Links
Identification
CAS Number
12036-10-1
Name
Ruthenium Oxide Anhydrous
Synonyms
Dioxoruthenium [ACD/IUPAC Name]
Dioxoruthenium [German] [ACD/IUPAC Name]
Dioxoruthénium [French] [ACD/IUPAC Name]
ruthenium dioxide
ruthenium(iv) oxide
Ruthenium, dioxo- [ACD/Index Name]
12036-10-1 [RN]
234-840-6 [EINECS]
32740-79-7 [RN]
438201-20-8 [RN]
MFCD00011210 [MDL number]
RuO2
ruthenium (IV) oxide
Ruthenium oxide
Ruthenium oxide (RuO2)
Ruthenium(IV) oxide hydrate (60% Ru)
Ruthenium(IV)oxide
SMILES
O=[Ru]=O
StdInChI
InChI=1S/2O.Ru
StdInChIKey
WOCIAKWEIIZHES-UHFFFAOYSA-N
Molecular Formula
RuO2
Molecular Weight
133.07
MDL Number
MFCD00011210
Properties
Appearance
Black powder
Safety Data
Symbol
GHS07
Signal Word
Warning
Hazard Statements
Precautionary Statements
Personal Protective Equipment
dust mask type N95 (US), Eyeshields, Gloves
RIDADR
NONH for all modes of transport
WGK Germany
2
RTECS
VM2654000
Specifications and Other Information of Our Ruthenium Oxide Anhydrous CAS 12036-10-1
Standard
Enterprise standard
Test Items
Standard
Appearance
Black powder
Ru
≥75.2%
Assay
≥98.0%
Specific Surface Area
45~66m2/g
Average Particle Size
≤5μm
Content Of Impurities
Impurities
Pd
Pt
Ag
Mg
Fe
Standard
≤0.0050%
≤0.0050%
≤0.0050%
≤0.0050%
≤0.0050%
Impurities
Mn
Si
Al
Ca
Cu
Standard
≤0.0050%
≤0.0050%
≤0.0050%
≤0.0050%
≤0.0050%
Impurities
Cr
Ni
Zn
Pb
Standard
≤0.0050%
≤0.0050%
≤0.0050%
≤0.0005%
Storage
Store at room temperature, keep in sealed and dry place.
Shelf Life
12 months
Application
Often used as a chemical catalyst, it is an important raw material for making resistors and capacitors.
Links
This product is developed by our R&D company Warshel Chemical Ltd(http://www.warshel.com/), and here is the corresponding linkhttp://www.warshel.com/ruthenium-oxide-anhydrous-cas-12036-10-1/
Quick Inquiry
Fill out our inquiry form and one of our experts will be in touch with you shortly.