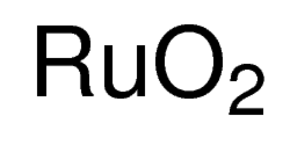 Iden­ti­fi­ca­tion
Prop­er­ties
Safe­ty Data
Spec­i­fi­ca­tions

&

Oth­er Information
Links
Iden­ti­fi­ca­tion
CAS

Number

12036-10-1
Name
Ruthe­ni­um Oxide Anhy­drous
Syn­onyms
Diox­oruthe­ni­um [
ACD
/
IUPAC
Name] Diox­oruthe­ni­um [Ger­man] [
ACD
/
IUPAC
Name] Diox­oruthéni­um [French] [
ACD
/
IUPAC
Name] ruthe­ni­um diox­ide ruthenium(iv) oxide Ruthe­ni­um, dioxo- [
ACD
/​Index Name] 12036-10-1 [
RN
] 234-840-6 [
EINECS
] 32740-79-7 [
RN
] 438201-20-8 [
RN
]
MFCD00011210
[
MDL
num­ber] RuO2 ruthe­ni­um (
IV
) oxide Ruthe­ni­um oxide Ruthe­ni­um oxide (RuO2) Ruthe­ni­um(
IV
) oxide hydrate (60% Ru) Ruthe­ni­um(
IV
)oxide
SMILES
O=[Ru]=O
Std­InChI
InChI=
1S
/
2O
.Ru
Std­InChIKey
WOCI­AK­WEI­IZH­ES-UHF­F­­FAOYSA-N
Mol­e­c­u­lar Formula
RuO2
Mol­e­c­u­lar Weight
133.07
MDL

Number

MFCD00011210
Prop­er­ties
Appear­ance
Black powder
Safe­ty Data
Sym­bol
GHS07
Sig­nal Word
Warn­ing
Haz­ard Statements
H319
Pre­cau­tion­ary Statements
P305

+

P351

+

P338
Per­son­al Pro­tec­tive Equipment
dust mask type
N95
(
US
), Eye­shields, Gloves
RIDADR
NONH
for all modes of trans­port
WGK

Germany

2
RTECS
VM2654000
Spec­i­fi­ca­tions and Oth­er Infor­ma­tion of Our Ruthe­ni­um Oxide Anhy­drous

CAS

12036-10-1
Stan­dard
Enter­prise standard
Test Items
Stan­dard
Appear­ance
Black pow­der
Ru
≥75.2%
Assay
≥98.0%
Spe­cif­ic Sur­face Area
45~66m2/g
Aver­age Par­ti­cle Size
≤5μm
Con­tent Of Impurities
Impu­ri­ties
Pd
Pt
Ag
Mg
Fe
Stan­dard
≤0.0050%
≤0.0050%
≤0.0050%
≤0.0050%
≤0.0050%
Impu­ri­ties
Mn
Si
Al
Ca
Cu
Stan­dard
≤0.0050%
≤0.0050%
≤0.0050%
≤0.0050%
≤0.0050%
Impu­ri­ties
Cr
Ni
Zn
Pb
Stan­dard
≤0.0050%
≤0.0050%
≤0.0050%
≤0.0005%
Stor­age
Store at room tem­per­a­ture, keep in sealed and dry place.
Shelf Life
12 months
Appli­ca­tion
Often used as a chem­i­cal cat­a­lyst, it is an impor­tant raw mate­r­i­al for mak­ing resis­tors and capac­i­tors.
Links
This prod­uct is devel­oped by our R
&
D com­pa­ny Warshel Chem­i­cal Ltd(
http://​www​.warshel​.com/
), and here is the cor­re­spond­ing link
http://​www​.warshel​.com/​r​u​t​h​e​n​i​u​m​-​o​x​i​d​e​-​a​n​h​y​d​r​o​u​s​-​c​a​s​-​1​2​0​3​6​-​1​0​-1/
Quick Inquiry
Fill out our inquiry form and one of our experts will be in touch with you shortly.